AARO is used by over fifteen thousand users in 140+ countries from around the world. It helps its clients with 2-500+ subsidiaries whilst complying with IFRS and other local accounting standards. AARO is developed by Aaro Systems AB.
In everything AARO does, it strives to make consolidation, analysis, and group reporting:

Easier
Faster
More transparent
AARO's deployment seamlessly with Greenstep's diverse team
The effective implementation of AARO requires customization to the individual needs of different groups and in-depth expertise in IFRS and consolidated financial statements. In addition to these, another essential part of AARO deployment is to build sustainable integrations between AARO and other systems.
At Greenstep, AARO's implementation is supported by an extensive CFO team of 40 specialists with solid IFRS and consolidated financial statements expertise. The Greenstep team includes several authorized public accountants. In addition, Greenstep has substantial expertise in building integrations between AARO and other systems.
For the AARO implementation, we compose a diverse team for your company, where experienced CFOs work seamlessly with integration experts. For each implementation, we also appoint a customer manager, who takes care of the smooth running of the process and has the overall coordination responsibility.
Importing journals & other data is easy
When we look at data collection, you can consider AARO as a business warehouse. You can load data from your ERP via text-file, Excel, or direct from the database/system or maybe from your preferred IPAAS or interlayer.
You can also manually enter data and adjust the data with journals if needed. The data can be of any periodicity: actual, budget, forecast. Most customers use AARO for more than just financial figures. Statistics, comments, and even other documents can be stored in AARO.
Calculations and eliminations
When the data is loaded, AARO will take the Acquisition register into account. The Acquisition register and Excess value register are in place from day one. AARO takes care of the logic – no need for a costly implementation with unclear responsibility.
Everything that is possible to eliminate or calculate automatically will be done automatically if you so prefer. You can also choose to do it manually, but we think it's better to let the system do as much as possible for an effective process.
When you report your intercompany transactions, AARO will match and eliminate them. There are no more differences between what is matched and what is eliminated, and the intercompany feeds the P&L and Balance Sheet. AARO will separate on match differences, depending on exchange rates and what are real differences.
Everything is done in real-time
Everything is done in real-time; when you put a receivable in the system, it is compared with its counterpart as the data is entered. Your intercompany process will be accelerated because everything can be resolved directly between the subsidiaries without corporate interference.
Statutory and operational data is consolidated in one solution. This leads to high quality; it doesn't matter if you split the group reports into markets, products, or legal entities - you get the same total. You save a lot of time, and your business controllers can be confident in their figures because it's possible to see the link to group accounting.
Easily share your reporting and workflows
The whole reporting process can be monitored by the users themselves or at the group level for several entities. To make it simple for users to understand when they should perform different activities and what should be done, there is a calendar, and linked to the calendar; there can be one or many workflows. This may be across the whole organization or just for a specific group of users. From the calendar, you can link the closing activities and monitor progress from the involved people.
Liked by auditors & easy to collaborate
Auditors, both externally and internally, like the clear and transparent report generator. All information is traceable to make it easy to understand and explain your numbers to, for example, your auditors.
Users can also collaborate by creating different dashboards for different purposes. It is also easy to share your work and findings with your colleagues.
What makes AARO better than the other alternatives?
AARO enables you to make educated decisions based on data faster.
Among AAROs customers, there are massive ones and customers who re-organize their structures frequently. They do it in AARO much faster than in their other systems.
AARO has an attractive price model, and your IT manager will like how easily it integrates. Furthermore, your closing process will be faster.
And finally, you can trust the reports; everything is transparent. You can split your group figures into legal entities and different operational parameters, and the total will be the same.
Here's an example of the AARO User Interface: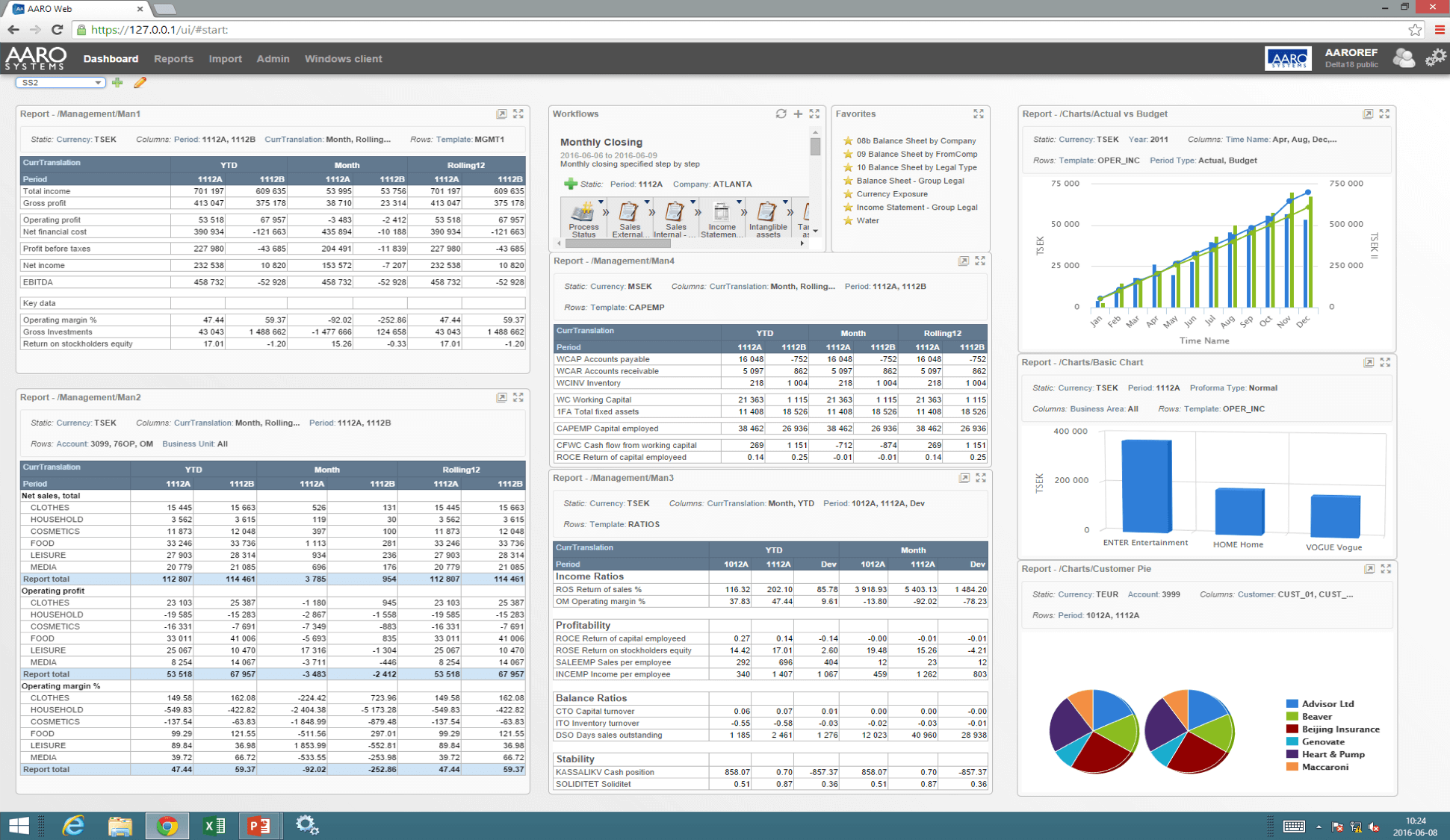 Would you like to have more information? Please get in touch with us - we are more than happy to help you!