Would you like your financial statements to be handled in the future by a reliable and proactive expert who does his job with the help of a network of more than 300 financial management professionals?
Greenstep has experience with almost all major corporate reporting systems, including NetSuite, FPM, HFM, Hyperion and the consolidation system Aaro. Sometimes there are situations in companies where their own financial management staff is prevented from performing their duties. In these situations, we can assist and provide temporary, project-based assistance in preparing the financial statements.

The financial statements in accordance with IFRS standards are prepared with the help of more than 10 Authorized Public Accountants from Greenstep. In addition to Finland, Greenstep also has offices in Sweden and Estonia, and through our partner network MSI Global Alliance, we help our customers worldwide.


Consolidated financial statements for the most skilled group in the financial administration industry
Greenstep has numerous group customers, which we assist in consolidated financial statements and other group accounting. Greenstep's own consolidated financial statements are currently being prepared using Excel, but we are in the process of unifying our companies' charts and moving to use the NetSuite business management system. With NetSuite, we are able to make consolidated financial statements more automated.
Modern tools enhance the preparation of consolidated financial statements, and Aaro Systems is another example of a good tool for reporting, consolidation and analysis. More and more of our group customers want to adopt Aaro: it is an easy-to-use system with a 100% focus on consolidated financial statements.


Continuous accounting at the financial statement level reduces the working time spent on financial statements
At Greenstep, accounting is carried out on a monthly basis at the financial statement level, which means that the accounting provides monthly information on the company's financial situation with the same accuracy as the interim financial statements. This provides the company with up-to-date information to support decision-making. We have even automated certain accounting quality assurance processes with the help of robots to ensure that high quality accounting-level accounting is produced for all customers.
In addition to this, the financial statements are prepared well in advance (we clean up the balance sheet specifications, draft the notes and arrange the schedules) even before the closing date. In this way, the financial statements are completed on schedule for audit and the information on the company's income tax return on time.


Quality assurance with peer support
At Greenstep, your company's financial statements are reviewed to ensure quality. Another financial management expert will review your business and review the financial statements to avoid errors and make it easy for the auditor to review the information in the financial statements. The people at Greenstep are supported by the expertise of 300 colleagues, and we want to utilize this expertise for the benefit of our customers.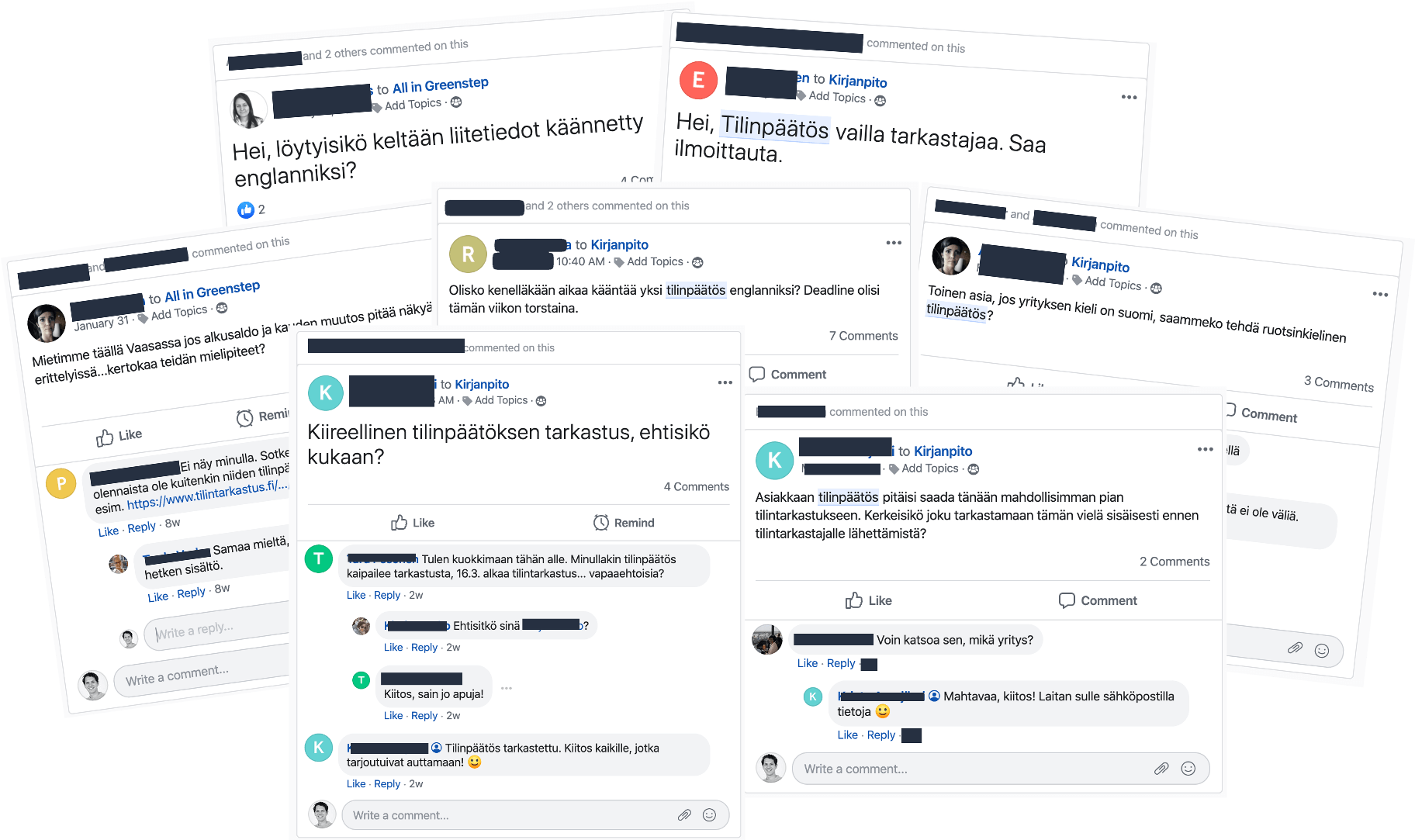 ---