What does it take to raise awareness for a worthy cause? We turned to Bernhard Forstén, one of the founders of Bold Projects, a group of fearless young doers and shakers, gave the Bold Projects team's three disposable cameras and asked them to document their charity rowing trip from Stockholm to Helsinki. The story behind the project and the snapshots taken on their five-day-long journey reveal that it takes a lot of sweat, ready-made meals — and optimism.

"The idea of rowing from Stockholm to Helsinki came from a 15-minute brainstorm. We wanted to do something for the Baltic Sea after the revelations of the IPCC (Intergovernmental Panel on Climate Change) report, so doing this felt like a no-brainer in a way. We were quite sceptical of whether it would be possible at all, so we decided to seek some help. So, pretty soon, we found ourselves sitting in the living room of an 80--something-year-old Finnish rowing legend, Börje Thorström. We told him about our plans and he thought we were absolute idiots — and loved our idea! That was the only thing we needed to hear.

The physical part of this charity endeavour was the smallest part of this, perhaps only 10 – 20 per cent of the whole project. Everything else was administrative work: trying to find sponsors and spreading awareness. This is a labour of love, not of money. We poured all of our spare time into this project, sometimes training for multiple hours a day on top of our day jobs and studies. We're all very different but were extremely committed to making the trip happen. It was a true team effort: if we don't all put the work in, the boat doesn't move.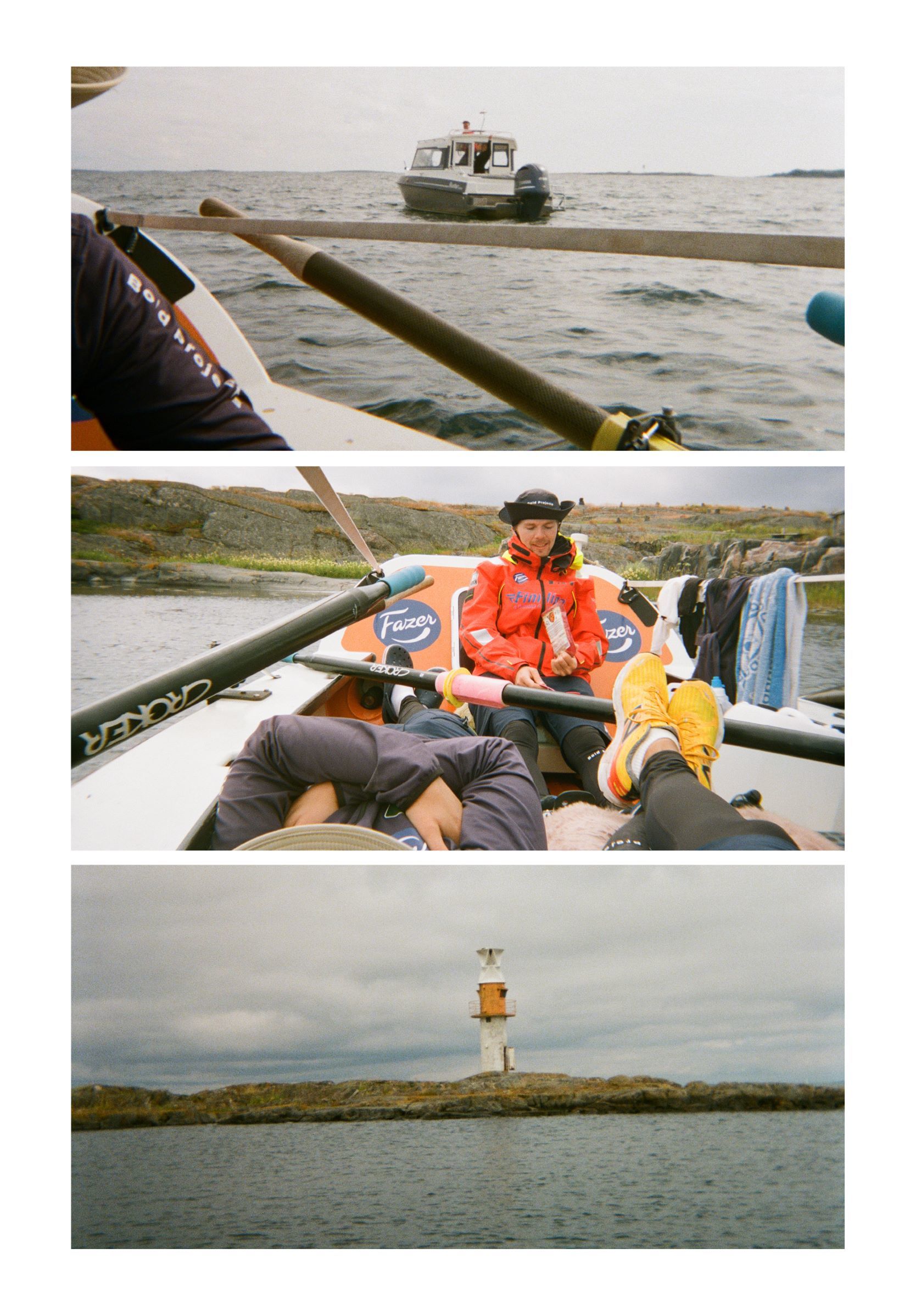 None of us had any experience in rowing. In the beginning, it was tough. Rowing is an extremely unforgiving technical sport. Anyone can kick a ball and play football, even if they are bad, but if you don't master the proper rowing technique, you actually can't move forward. Learning how to row was one of the toughest things I've ever had to do physically.
I thought that the beginning of our row would've been the hardest — but actually, the entire rowing trip was pretty pleasant. We rowed in tag teams of two and alternated between two hours of rowing and two hours of downtime. It took us five days to cover around 480 kilometres. The wind was in our favour for most of the trip — except for two periods on the shores of the Åland Islands. The first island we saw was Logskär and we were stuck staring at it for 12 hours because the waves were so high and powerful. We didn't advance an inch. Other than that, we were treated with sun and mild winds.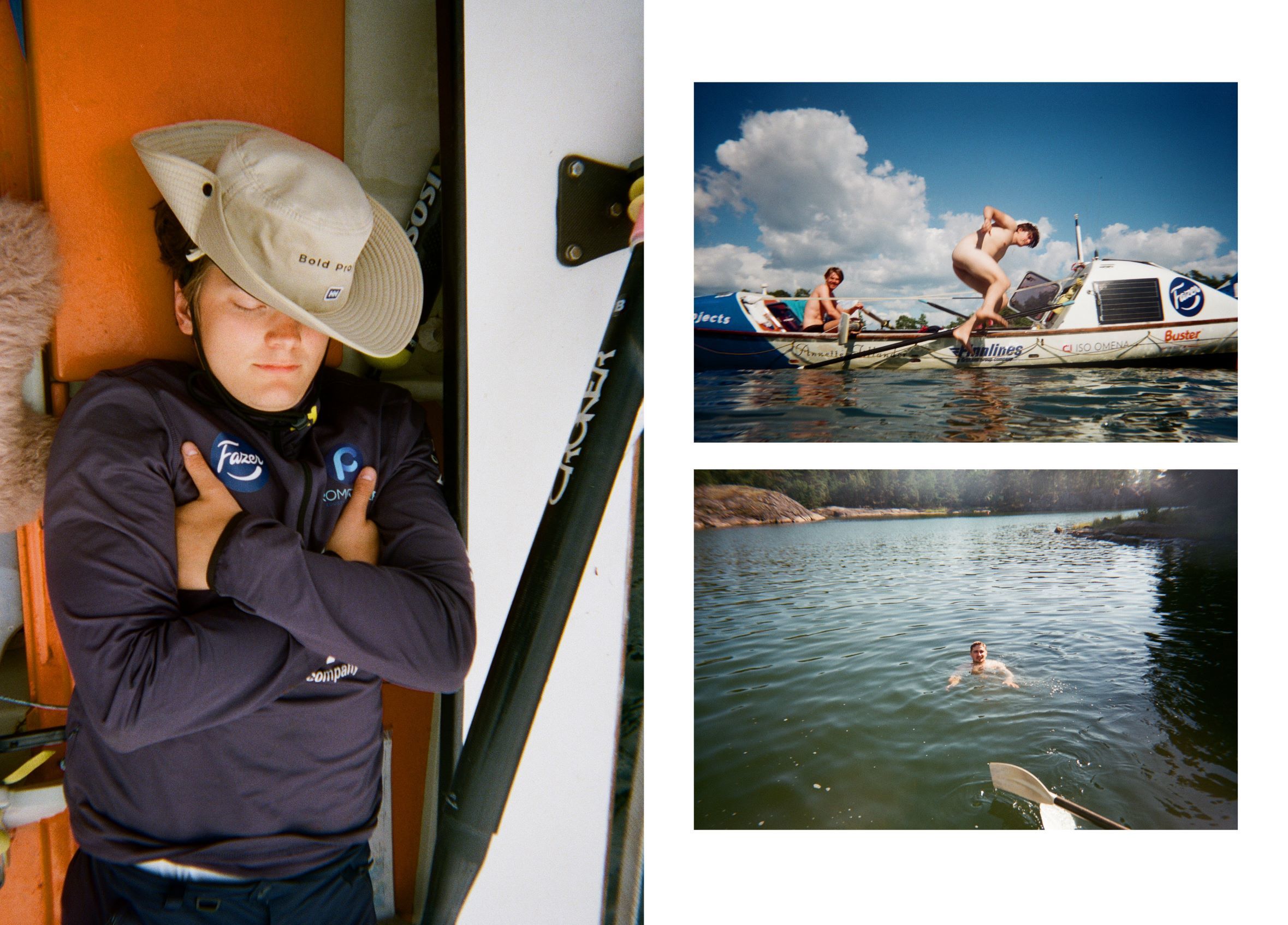 We were never really alone. We kept on crossing paths with boats full of cheering people, handing us beer and sandwiches. Along the coasts, we saw little fan clubs waving at us. When we rowed, we spent hours talking about everything and anything. It never got dull or boring and everything was so fast, yet so slow. There was always something to do: cooking, rowing, doing interviews for the media. Sometimes we'd take little breaks to swim in the sea.
There was beauty anywhere and everywhere. We saw so many unforgettable things on our five-day journey. One of the most memorable moments happened very early one morning. We had finished crossing the Sea of Åland at sunrise. The water was like glass. It was just us and the sea in the small hours of the morning, painted in a deep orange. On our right-hand side, the sunrise that blurred the horizon; on our left, the deepest blackness I've ever seen. It took our breath away."

Don't feel like rowing in the cold wind to raise money for a good cause?
We turned to BSAG's (The Baltic Sea Action Group) Pieta Jarva to find out how we can all contribute towards a healthier Baltic Sea-rowing optional.
Why does the Baltic Sea matter right now?
The Baltic Sea is a shallow and particularly sensitive sea area that is affected by climate change faster than many other areas. It is also now in such a poor condition due to human activity that rapid action is needed. For example, the oxygen-free seabed of the Baltic Sea is now about twice the size of Denmark. However, it is still possible to save the Baltic Sea and emissions have already been cut. In addition to this, we are exceptionally knowledgeable of the problems and characteristics of the sea, and can even set an example in solving a transboundary ecological problem more broadly.
What kind of concrete actions can we take?
You can make environmentally-friendly everyday choices such as avoiding driving, wasting chemicals and increasing the proportion of vegetables in your diet. You can spread awareness in your personal life by talking to people — and voting. You can also help a helper, and, for instance, donate to, for example, BSAG's Baltic Sea projects. Together, we can have a bigger impact.
What kind of charities are good projects to donate to?
A charity that suits your values. You can choose a very specific project or donate to a group that is driving a larger change.




Words: Matilda Kivelä
Photos: Bernhard Forstén