Meaningful and varied work in a team of sustainability excellence – Susanna's career story

A lean organizational structure and varied tasks were what attracted Susanna Kiviniemi to join the team of sustainability experts at Greenstep. Her role in the team includes a variety of different tasks, from calculating carbon footprints to sales and team leadership – for the experienced expert, the most important thing about the job is that every day is different.
Susanna Kiviniemi, Senior Manager of Sustainability Services at Greenstep, became interested in climate issues when she was still in high school. Before joining Greenstep, she worked for more than ten years on various sustainability projects, including the utilization of industrial side streams and contaminated land investigations. However, Susanna realized that she was longing for a smaller, less hierarchical organization. She found her place at Greenstep, where she joined in 2022.
"In my previous job, there were organizational changes as a result of an acquisition. I began to wonder if a smaller organization would be more comfortable. When I saw that Greenstep was looking for someone with my skills profile, I applied. The size and low organizational structure appealed to me", says Susanna.

Wishing for a job with flexibility and opportunities - Greenstep delivers
As Senior Manager of Sustainability Services, Susanna's responsibilities range from sales and project work to team leadership. She meets a lot of potential customers, leads customer projects, and carries out carbon footprint calculations and environmental impact assessments for our customers. For Susanna, the variety of her work is the most important part of the job.
"I was at an event where I was asked to describe my ideal day at work. I said that it depends on the day - I like variety in my work", laughs Susanna. In addition to the variety of her work, she also appreciates the opportunity to shape her role according to her own interests. For example, Susanna took on the role of team leader on her own initiative.
"When the topic came up, I just said I might be interested. I probably wouldn't have ended up as a team leader otherwise", says Susanna, who now also coordinates a team of five people working on carbon footprint calculations in addition to her customer project work.
The flexibility of work is also reflected in the fact that Greenstep has offices in several cities and countries, and each employee can choose their own home office. "You don't have to be in Helsinki, you can do the work anywhere. I like being out in nature, and the nature sites in Lapland are especially important to me", says Susanna, who works in the Oulu office. The rest of the sustainability team is based in different cities around Finland.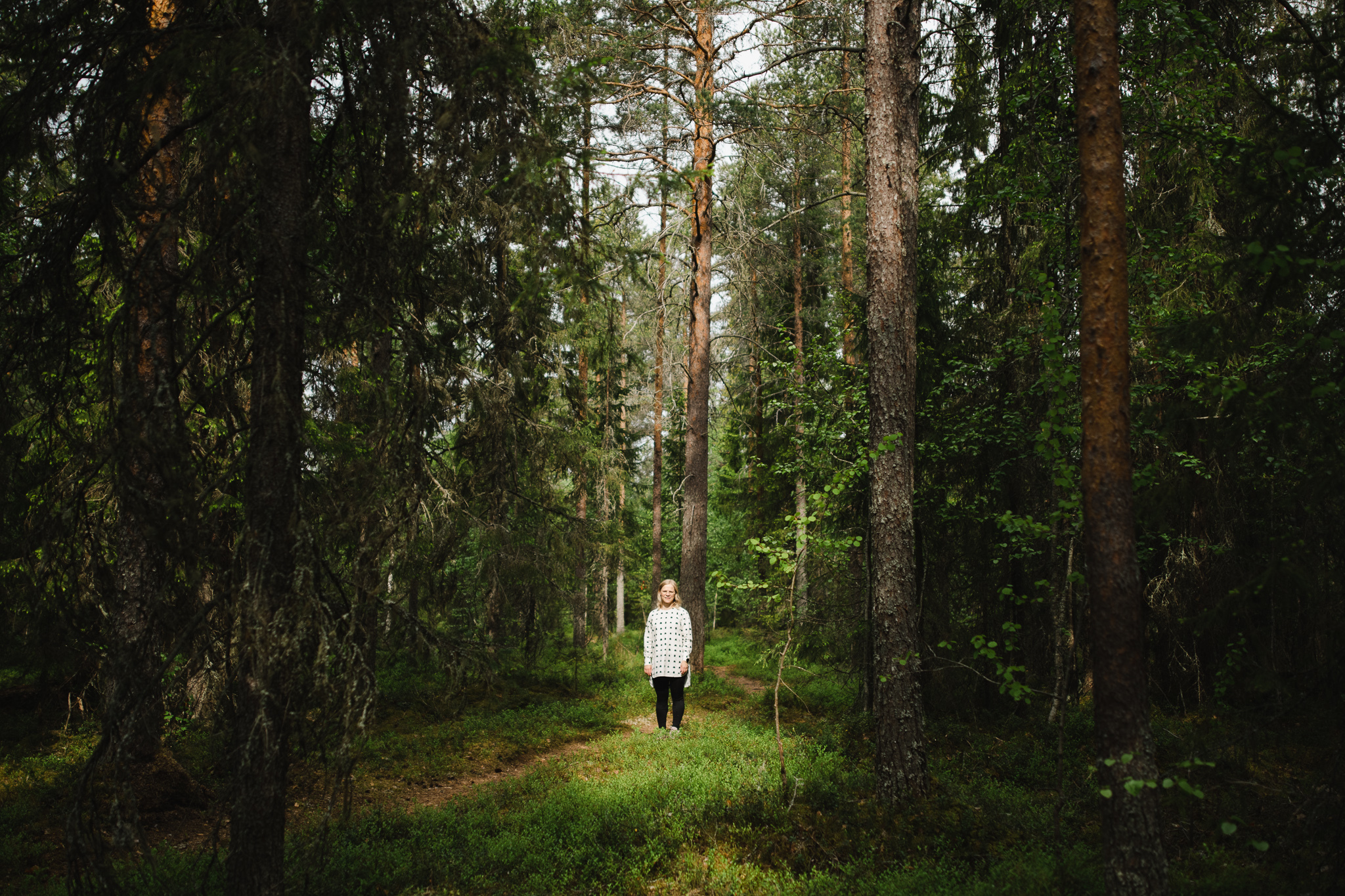 Experienced team and open culture drive continuous learning
Greenstep's sustainability team was established just under a year before Susanna joined, but the team has grown rapidly in its few years. Now, in August 2023, the twelfth sustainability professional will join the expert team. This rapid growth is the result of a collaborative and passionate approach to work.
"We are in different locations with the team, but we have weekly chats in Teams with a good and relaxed atmosphere. We also try to arrange a monthly team day where we meet in person to develop our operations. We think together about where we can improve and if there is a new service we could offer. We have an experienced team that knows what to do and is genuinely interested in developing our activities", says Susanna.
Susanna feels that she has learned a lot during her time at Greenstep. She believes that the most important reason is the experienced colleagues who share their knowledge with others. For example, the team members usually work together with a colleague on projects and share what they have learned with the whole team. Help and advice can always be sought from anyone in the team or the organization as a whole.
For Susanna, this open culture is one of the best things about Greenstep. "It's the atmosphere and the low hierarchy of the organization. There's no one you can't pull by the sleeve and ask directly. This affects the working environment - even though we have high ambitions, you can always be human," Susanna concludes.
Pictures: Lasse Lehto