Where Finland meets the world

What happens when hyper-global goes hyper-local? We visited Muji's Helsinki store and the farmers, chocolate-makers, sauerkraut-pushers, millers and distillers who supply the global giant's Helsinki spot's Local Food Store with products made with heritage, passion and unflinching honesty.
The wooden-clad walls of Helsinki's Muji store, the Japanese chain's biggest store in Europe, make the shop look like a 1970s-inspired wonderland. The sound of happy chatter fills the air; the soft light makes a busy Friday afternoon feel like a slow Sunday morning in a Japanese onsen.
"We wanted to make this space feel like a living room," explains Muji Helsinki's Restaurant Manager Anni Narsakka. "A place where you can work, eat and linger around." A big part of the enjoyment comes from food — something that Muji's Finnish department takes very seriously. One of the shop's focal points is the Local Food Store that carries a curated collection of hard-to-find Finnish producers' ware, precisely around 400 products from 100 Finnish producers. The collection was curated by Muji Finland's Food Manager Heikki Ahopelto and food consultant Aki Arjola, together with Narsakka and Muji's Food team's Mila Laine (the team has since been supplemented with head chef Hannes Tolvanen). The conception of the first collection of products took a long time, as the team travelled around Finland visiting multiple producers scattered around Finland. Most of the products ended up on the shelf after a visit to the producer, thus allowing lasting relationships between the global chain and tiny producers to flourish.
Creating the Local Food Store was a one-of-a-kind process and, as Narsakka says, it was a journey of surprises, as the concept hadn't been tested in any other Muji stores before. "We had a lot of explaining to do," laughs Laine when asked about the process of convincing farmers and producers around Finland to join the venture. "But today, we have something really special here. We are privileged to be able to provide amazing producers with a global platform." Narsakka agrees and adds that working exclusively with small producers has allowed the global brand to commission tailor-made products and forge true collaborations.
Muji's Local Food Store is built upon the shop's values: every product at the Local Food Store has a story and an ethos. The emphasis is on genuine relationships between the producers and the company. In the ecosystem of the store, sustainability is not a mere afterthought: in addition to the producers working sustainably, the restaurant and grocery store work in tandem to ensure that the amount of food waste is scrunched to a minimum. Although the producers are different—some drive their products to the store in their tiny car, while others operate a bigger business—they all share a passion to create unique, high-quality food. "We are genuinely present and know our producers," says Laine. "That's what makes this project so special," concludes Narsakka.


Strömsberg's Mill
The road to Strömsberg's mill winds through postcard fields and frosty forests. It is the second-oldest functioning mill in Finland; one of the few that still grind flour and oats; a dying breed. It has stood its ground through revolutions and wars, cold winters and scorching hot summers. During the Winter War in the late forties, the mill's lights never went out as it ground flour around the clock, with four millers sweating and shivering by the machines. After the war, guns were hidden in the structures of the building, in anticipation of an invasion from the eastern border.
As we drive up to the mill, we are greeted by Jani Hannula, the heir of the mill who takes care of the day-to-day operations of the business. The mill has been an integral part of his life: as a child, he played there, watched over by his father, who, now at 78, still looks like a young miller, as he walks around surveying the milling process. Both Hannula's father and mother still drive to the mill every morning from their apartment in nearby Porvoo, unable to let go of their flour-covered domicile. Entering the mill is a sensory experience: the smell of an old building melting into the dry scent of different flours fills the air and the nearly deafening sound of the old machines is almost overwhelming. "I'm half-deaf myself," chuckles the younger Hannula, "but listening to the machines is a vital part of the process. The quickest way to spot an issue is to listen to the machines." To the untrained ear, the clatter and hum of the machines form no revelatory tune, yet for someone who grew up in the mill, every click and clack has a meaning. Leaving the mill with your coat impeccably black is impossible. The walls, floors and ceilings are covered in a thin, powdery coating of flour. When the machines are churning out flour, the air is thick with it. Only a few rays of sun find their way through the old flour-coated window panes, making the mill look like a hazy set of a period movie. "If I had to leave the mill and never come back, I'd miss pitch-black evenings when the mill's only working light bounces off the machines," muses Hannula.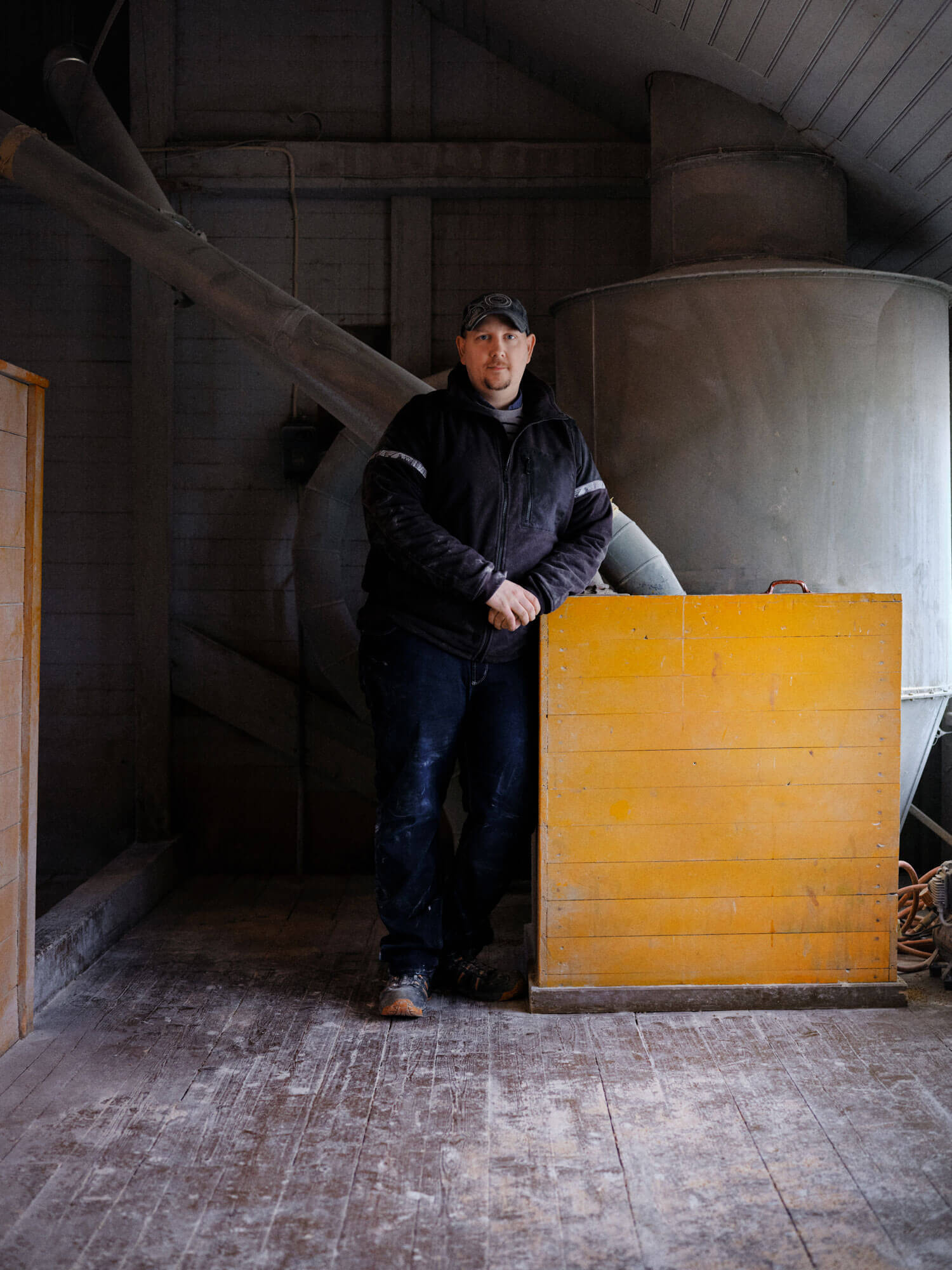 Jani Hannula has grown into his profession from a child.


The mill's long heritage is present everywhere and in every part of the milling process. The machines are old but haven't seen their heyday yet: they all work and, contrary to what one would think, the miller isn't ready to let go of them quite yet. "In the yesteryears, the machines were made with care," he explains, "the secret is in the meticulous handiwork of bygone eras." The machines themselves are entirely made out of wood, which means that the flour that comes out is of a higher quality. When something breaks, a 90-year-old electrician who lives nearby stops over to look at them. "He's often been our saviour," says Hannula, "and we really hope that he lives up to 200!" Spare parts are no longer available, as the last shop that sold them shut its doors three decades ago. Millstones are also hard to find and if one breaks, finding a 500-kilo replacement is much like the lottery.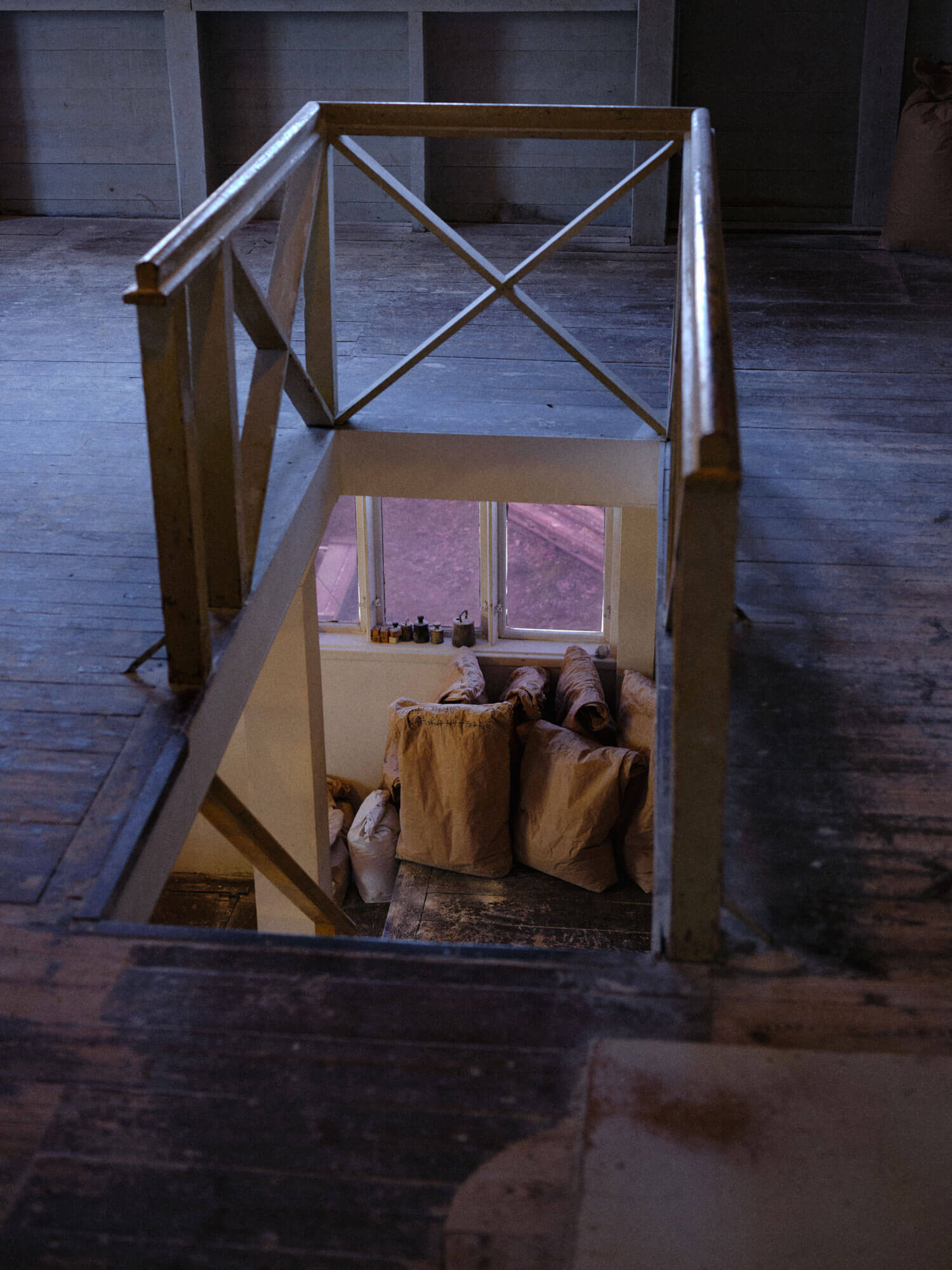 The mill was first built in the 1500s, after which is has seen wars, multiple fires and one big move.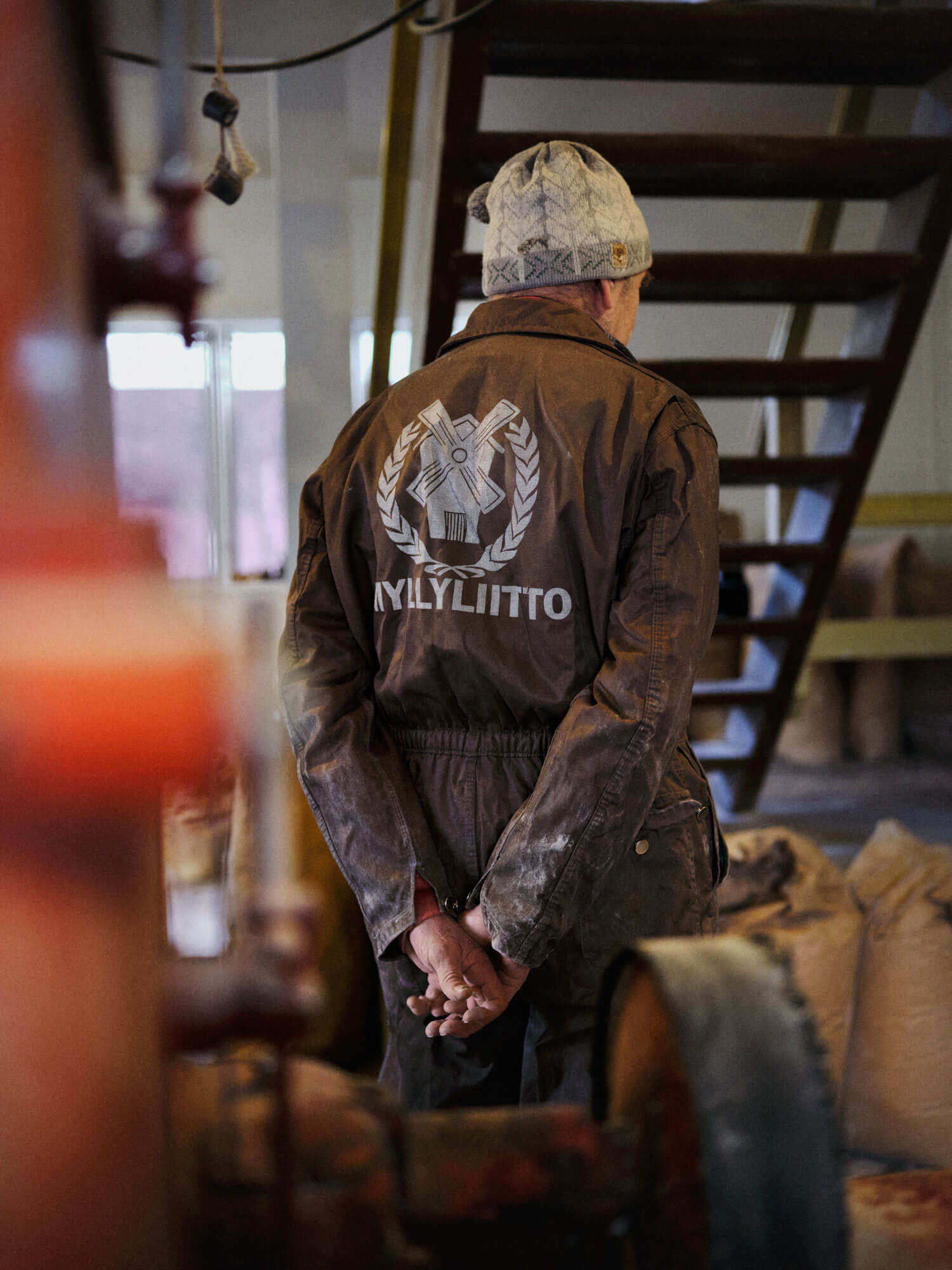 As the younger miller shows us around, the older miller surveys the mill's production just like he's done for many decades.


When asked about collaborating with a global chain like Muji, Hannula sounds thankful. Five years ago, he was close to shutting shop, as getting the flour to the end consumer was difficult and the craft itself didn't seem to be in high regard. "Thanks to a revival in the appreciation of traditional methods of producing food, business is now better than ever," he glows. The revival is felt concretely in the mill, where vital refurbishing has been made possible by growing sales figures. Today, as Hannula says, people want their bags to be filled with quality produce. As Hannula wants the flour to be as fresh as possible, he was sceptical about Muji at first. However, after hashing out a plan for a truly collaborative process and getting his produce stocked at Muji, the mill has been attracting a growing amount of interest from restaurants, hotels and bakeries around Finland. "Every compliment we receive feeds my pride in my trade, too," says Hannula. "Now, I feel like what I do carries meaning."

"Every compliment we receive feeds my pride in my trade, too," says Hannula. "Now, I feel like what I do carries ­meaning.


Helsinki Distilling Company
"I hope we never have to leave this place," exclaims Kai Kilpinen, Master Blender of The Helsinki Distilling Company as he accompanies us down to the distillery, located in Helsinki's old Meatpacking District. No matter how big the business grows, the distillery is committed to staying local and close to its roots. Growth feels like a natural evolution for The Helsinki Distilling Company: in six years, the distillery has grown from an idea to an award-winning business that has shown that a knack for innovativeness can be blended with respect towards Finnish nature and packaged into a bottle that charms spirit-loves from Osaka to Stockholm.
Nearly fifteen years ago, a group of whiskey-loving friends was sipping on American rye whiskey, when the discussion turned to the origins of the whiskey's rye. "We all came to the conclusion that the rye was probably Finnish," recalls Kilpinen. Suddenly the question was crystal-clear: why does the rye need to travel all the way from Finnish fields to American distilleries in order to become high-quality whiskey? Little by little, that inquisitive thought grew into an intention and, finally, into a business. Kilpinen, along with the company's Distilling Master Mikko Mykkänen, were both avid whiskey enthusiasts yet had no experience of the craft itself. That's why Mykkänen decided to embark on a journey of discovering the art of spirit-making and, in 2014, the question that started it all became Helsinki Distilling Company.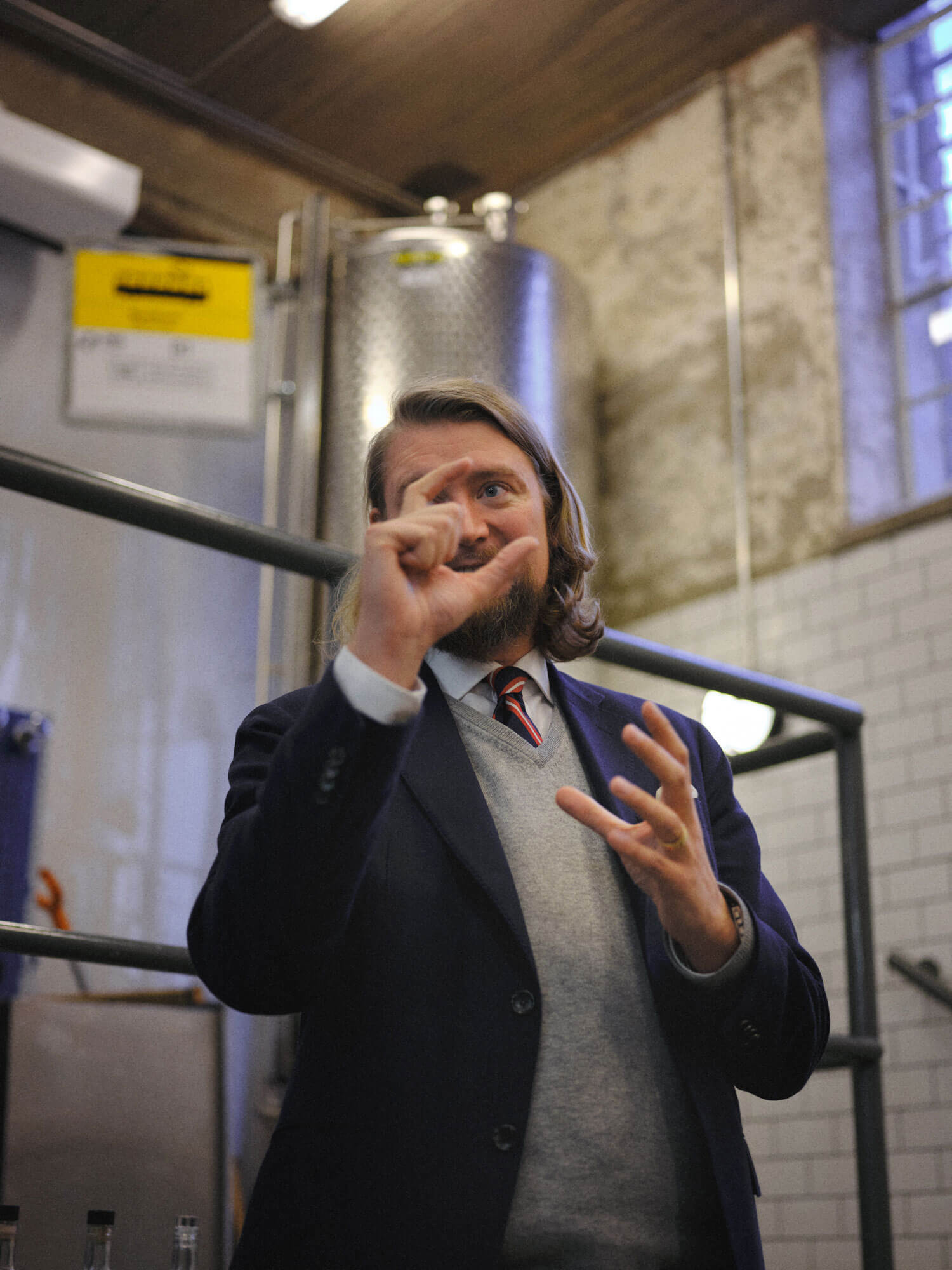 Although the distillery's first product was rye gin, today the product line covers many unique spirits inspired by Finland and the country's staple ingredients.


Today, rye whiskey is just one of the distillery's products. This year, it will produce 40,000 litres of rye whiskey alone. Along with a solid base of rye whiskey and gin, the distillery experiments with flavours derived from Finnish nature. "We have tested all Finnish berries and fruits," confirms Kilpinen, and continues to explain that nearly everything is distillable, as long as it is fermented first. One of the most innovative products currently for sale is the company's Tyrnipontikka that honours Finnish spirit-making traditions and combines them with a unique berry. It is an accurate depiction. The philosophy of the distillery is derived from deep respect towards ingredients and a never-ending quest for a balance of tastes.
The hyper-local nature of the distillery has been proven to be a selling point. The stories, flavours and artisan-like process form a compelling narrative that resonates across the globe. For The Helsinki Distilling Company, being local and global is a way of existing. As Kilpinen leads us away from the distillery, through the warmth and the fragrant air, he muses on the importance of being local. "We truly practice what we preach. We marry Helsinki's water with Finnish malt to create our whiskey and, when we need apples, we order them from our trusted provider in Salo. For us, it's the only way to do it."


Nordkraut
When Susanna Vento opens the door to her studio that doubles as an office and workshop space for Nordkraut, the sweet smell of palo santo floats to the sunny street. It is here that Vento, a stylist by original trade, works with her Nordkraut team to ship out sauerkraut and organise workshops for any sauerkraut enthusiasts — a group she hopes will grow fast. "Our mission is to make sauerkraut sexy," she laughs. As with most small businesses, it all started from a bit of silly small talk. When Vento was building a fair stand for Matri, a Finnish furniture company, she spent hours chit-chatting with Elli Lehnhoff, Matri's designer. Somewhere along the way, talk turned to sauerkraut and, more importantly, why it has such an unsavoury reputation. "We were kind of whispering about it," says Vento. As the days went along, the sauerkraut conversation didn't cease — quite the opposite. After a couple of days, the two powerhouse women decided to make their whispers a reality, even though neither had any experience in the gastronomic industry.
Although Vento and Lehnhoff's romantic visions of a beautiful factory in Helsinki didn't quite come true, Nordkraut has quickly established itself as a local fermentation expert. When the idea started growing into something tangible, the duo was joined by chef Jyrki Tsutsunen, Lehnhoff's friend Mirkka Olkinuora and all-round food professional Kenneth Nars. Their responsibilities are shared according to their interests and strengths: Lehnhoff is Nordkraut's boss lady, Vento leads the creative side (she hates calling herself a creative director), Tsutsunen is the recipe master and product developer, Olkinuora takes care of sales and all things related to numbers and Nars runs a one-man PR department. Together, they are hoping to make fermentation cool. "It's been a labour of love until now," explains Vento, "but things are getting more serious." As the array of products has grown, the company has also started fermentation workshops, in which participants get to give cabbage a good beating in delicate-looking yet robust cream coloured ceramic crock pots. Vento explains vividly how the workshops usually start on a shy note but quickly escalate into a roomful of enthusiastic people smashing cabbage with reckless abandon. "People have loved being able to hit their cabbage," she chuckles.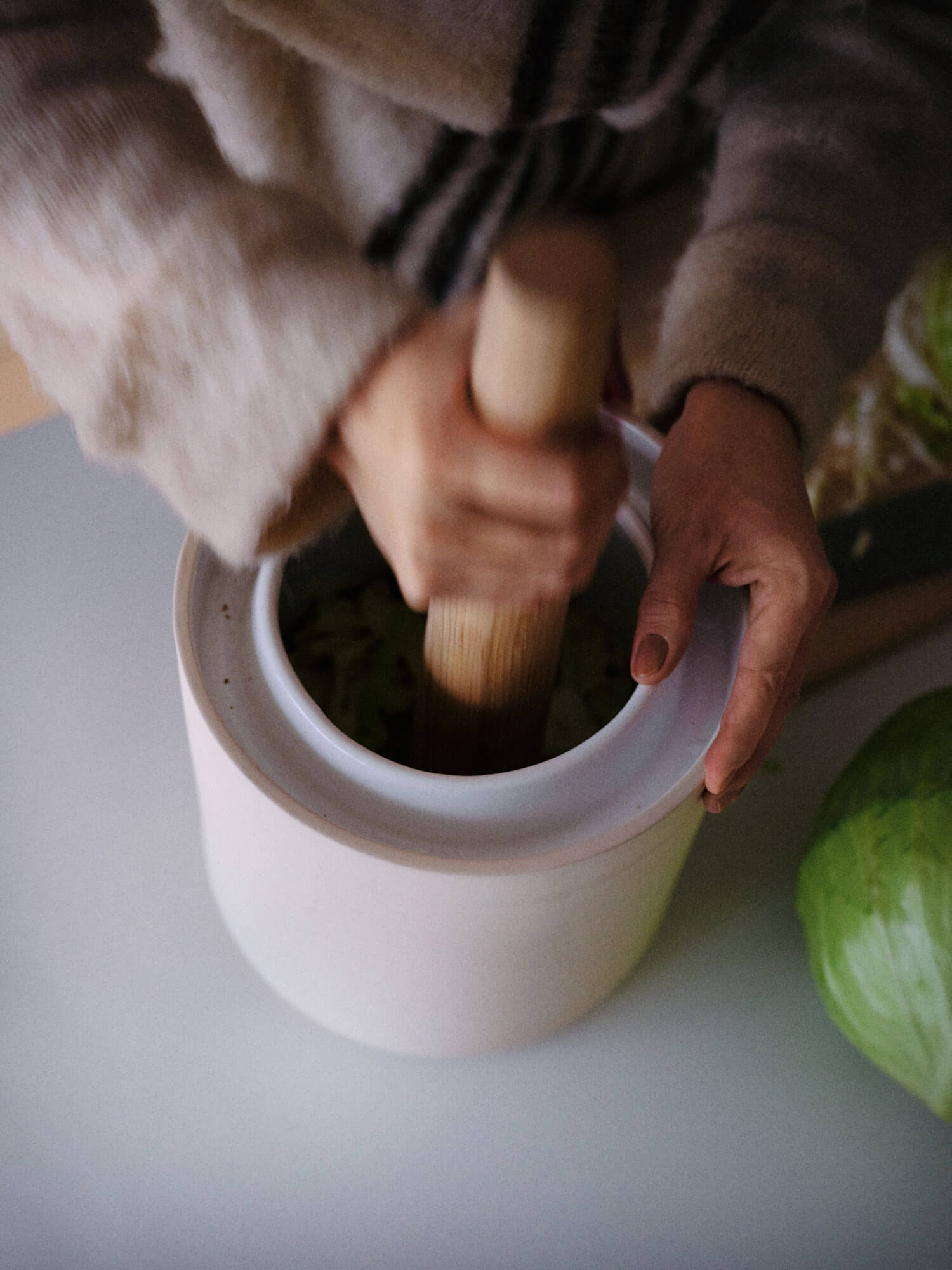 All of Nordkraut's cabbage comes from vetted organic producers in Finland.

Cabbage was, for Vento and Lehnhoff, a simple way of starting their first venture into the world of fermentation. "Cabbage is grown in Finland, so the fact that we're able to produce vitamin-rich food that only gets better with time with ingredients that come from the Finnish countryside is pretty amazing," glows Vento. The recipe is fairly simple: good cabbage mixed with high-quality salt, placed in a pot to ferment. According to Vento, it is the world's simplest thing that has just been forgotten by most of us; a true superfood. Along the way, she has learned to give the ingredients an immense amount of respect and has acquired newfound patience for things not working out quite as she would like them to. "Nature is fickle and I hadn't truly realised that before we set off on our sauerkraut adventure," explains Vento. She encourages people to let go of an expectation of perfection and to embrace the imperfections in food. "We've gotten so used to always getting the same product, no matter the location or the season. It's simply not a realistic expectation." Despite becoming a business, Nordkraut remains a labour of love. For Vento, it has provided a source of a new kind of meaningfulness and inspiration that doesn't stop at a jar of cabbage. "After years of working in the advertising world, this cabbage business feels extremely meaningful. I've come to realise that we as humans don't need much. If I can help someone rediscover their culinary roots, I'm happy."*


The Little Chocolate Factory
Imagine the smell of chocolate. Now double, triple and quadruple that and you'll be close to what it smells like at The Little Chocolate Factory in Porvoo. As its name indicates, the factory is very little: an entrance, a lobby, a cupboard for ingredients, a manufacturing room, a room dedicated to packaging the chocolate bars, an office — and an atelier. "My wife is a visual artist and we wanted to build her an atelier here," explains Peter Westerlund, the owner and founder of the factory, as he introduces us to his wife. She greets us with a paintbrush in hand. The factory has just moved to new facilities, as their old ones at the Art Factory of Porvoo had become too small. Although the facilities are new, the factory itself isn't. The factory was founded in 2005, as Westerlund was finishing his 2,5-year paternity leave. A restaurant professional with a background in restaurants both at home and abroad, he was keen on finding something new to do. He had always been interested in working with chocolate — an interest that has materialised in a factory that has stood the test of time, trends and fads.
"I get to do what I love every day," says Westerlund, as he shows us how the cocoa beans are roasted. The Little Chocolate Factory is one of the few Finnish chocolate factories that truly make their chocolate from scratch. Here, the beans that arrive in jute sacks from Brazil or Madagascar, are roasted and then refined into sleek chocolate bars and slipped into a sleeve designed by Westerlund's wife. The jute sacks are stacked in the production room and they look every inch the cocoa deliveries one would expect: rough bags with the contents written in simple block letters. The countries that the beans come from make one dream of palm trees swaying in the wind and endless sunny days. The marriage of exotic cocoa beans the charm of everyday life in a small Finnish town is enticing. Peddling cocoa beans is a business that has also changed with social media, as Westerlund tells us that producers now proactively contact him online. "They also know that I only accept the highest-quality cocoa beans," he explains, "that's why we sometimes have to wait for up to half a year to get beans that can be held up to our standards." According to him, cocoa beans are much like wine. Different beans have a different taste and the plant is vulnerable to temperamental weather, rainfall and the change of seasons.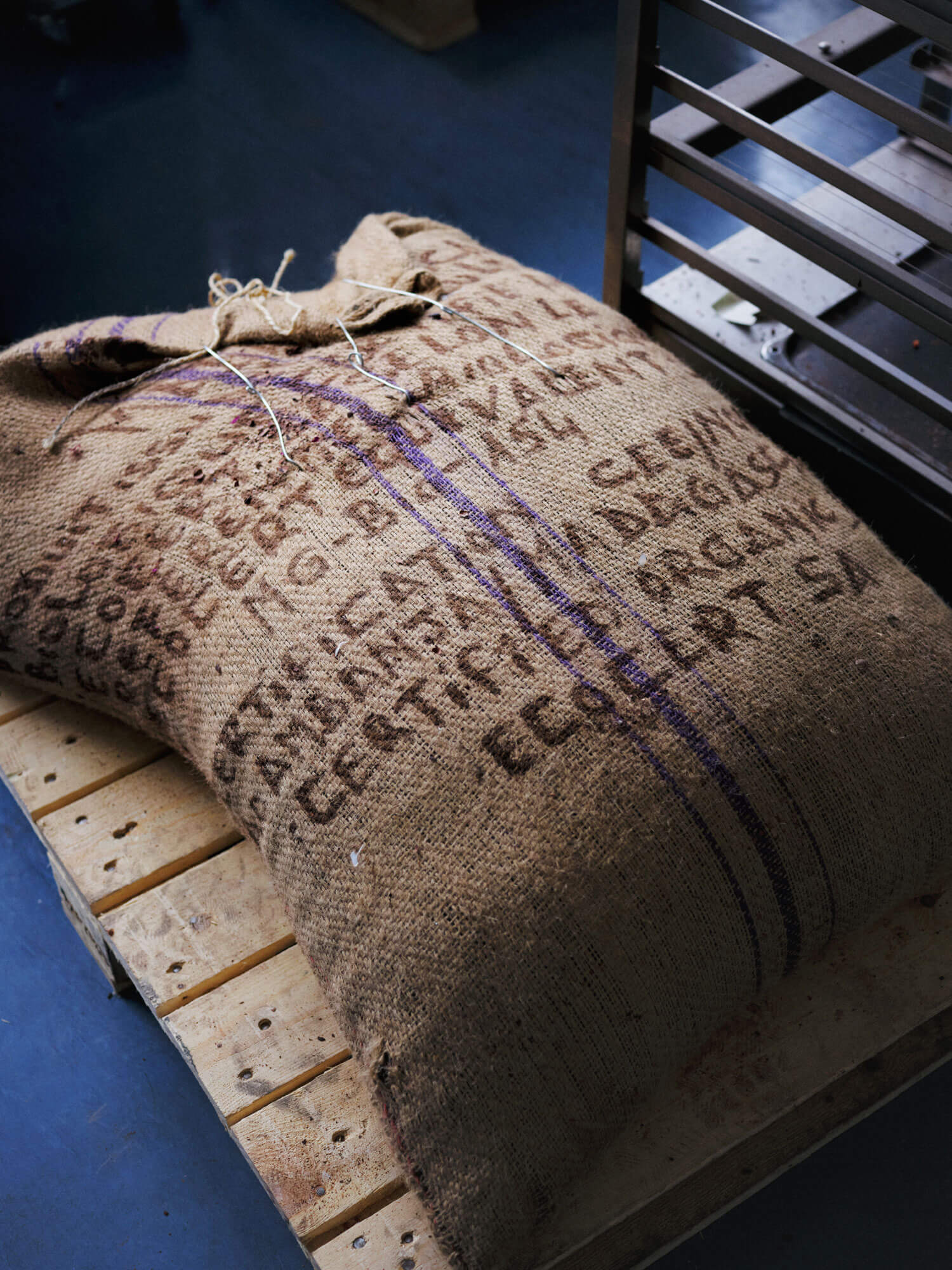 Only the highest-quality beans end up in the chocolate bars of the Little Chocolate Factory. The producers know not to send anything below par to the factory in Porvoo.


When it comes to flavours, Westerlund is a fearless and experimental chocolatier and his efforts to rethink chocolate have yielded the factory multiple awards. Smoked chocolate and spruce chocolate count amongst the wilder chocolate bars produced by the factory. The chocolatier himself is a keen forager and thinker: the spruce in the chocolate was foraged from his backyard and the smokey chocolate was created fuelled by tenacity and curiosity. Every bar is designed in-house, and as long as Westerlund himself is proud of his product, it will end up on the shelves. Today, the factory's bars can be found everywhere from Helsinki to Tokyo. "When I started this venture, I had no idea how far we'd get," muses Westerlund. "There's no way I would've believed fifteen years ago that I'd have created award-winning chocolate loved all over the world. I just wanted to create high-quality products." The collaboration with a global chain like Muji felt like serendipity. Or, as Westerlund says, the fifteen-year stint spoke for itself. After fifteen years, he's still inspired by chocolate and shows no sign of getting tired of it yet. "My favourite kind of chocolate varies from day to day, but not a day goes by that I don't eat chocolate," he states proudly. "The day I don't eat chocolate will be the day I'm dead."


Helsingin Meijeriliike
We visit Helsingin Meijeriliike on a cold and windy day. Inside the dairy, located within Helsinki University grounds, the air is thick with a smell of cheese. To a visitor, everything strikes as quite clinical: no mooing of cows in the distance, no smell of manure around, no cheesecloth lying around and no gingham aprons. It's more chemistry than countryside, yet the craftsmanship nature of cheese-making is present in every facet of the production. "I guess I was also nurturing a dream of sitting on the side of a field, a cup of coffee in hand, watching crows graze," laughs production manager Ville Lähde. "But the reality is that cheese-making is hard work and we're constantly trying to improve our production to improve our product." Making cheese is no mean feat: many cheese makers around Europe and the globe go through a gruelling apprenticeship journey prior to embarking on their careers.
Helsingin Meijeriliike seems like the creation of an ambitious cheesemaker and chemist. The feeling doesn't come out of nowhere: Antti Alavuotinki, the founder and cheese master of the dairy has a background in engineering and teaching at Helsinki University. The dairy's approach to cheesemaking—a combination of engineering, chemistry and striving for continuous learning—is naturally an extension of Alavuotinki's thinking. Everything is made with a commitment to high quality. "We need to be very up-to-date on quality issues," says Lähde, "even if the measures we take reduce the romance and the trendiness of the process." The cheese manufactured at Helsingin Meijeriliike is meticulously packed, pasteurised and handled; the people who are shuffling around the dairy, busy with the tasks of a cleaning day, are all wearing white and routinely pop by the sink to wash their hands.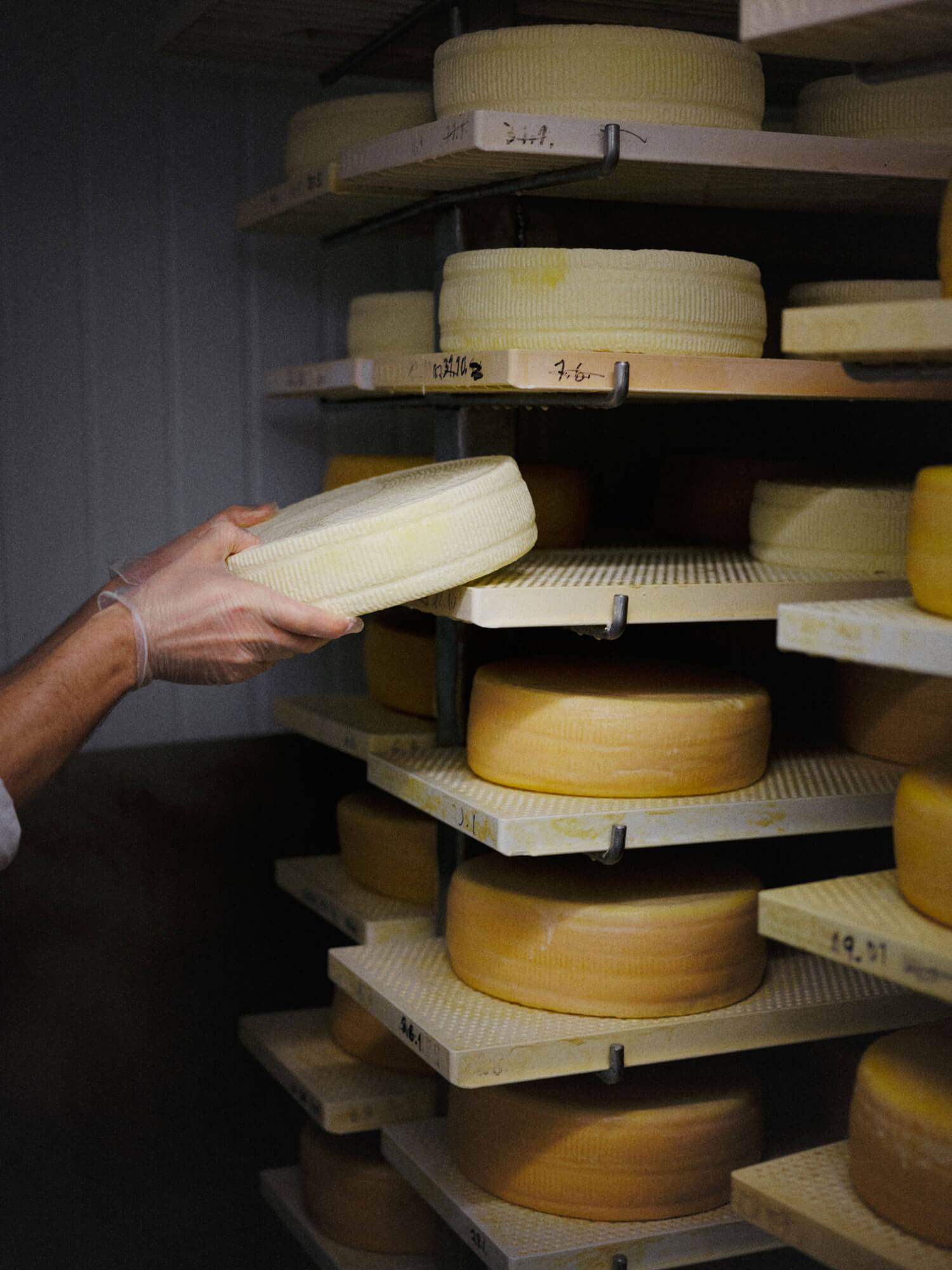 The dairy produces both soft and hard cheeses, all named after different neighbourhoods in Helsinki.


"Finland is a rather atypical cheese country," ponders Lähde as he recalls meeting French people who were sceptical if it was even possible to make cheese in Finland. Yet, the dairy's lights come on every morning at six and every other day, jugs containing around 2000 litres of milk are shipped to the dairy and the size of the shipment triples over Christmas. The dairy currently manufactures three to five different cheeses, all named after local neighbourhoods, as well as yogurts in flavours that are reminiscent of long Finnish summers. The cheeses are elegant and soft; distinctly urban yet a chapter in cheesemaking history and heritage. According to Lähde, the local flair and high quality of the products set them apart from their competition. Having a platform on a hyper global level through Muji has been meaningful and, as Lähde says, although only time can tell, the philosophy behind a movement that highlights small producers is beautiful and resonates both at home and abroad.
Although Lähde speaks of chemistry and procedures, he describes cheesemaking as an artisan activity. "At the end of the day, cheesemaking requires a high level of craftsmanship," he explains, "you need to know what the cheese looks like when it's ripe and know how to interpret its colours and consistency." What keeps him coming back to the dairy is the holistic nature of a small dairy's operations — but also the sliver of romance hidden in everyday life. "If I had to leave today and never come back to the dairy, I'd miss the quiet mornings when you're the first to arrive at the dairy. The morning shifts allow you see the year change shapes; you have time to enjoy the deafening silence of pitch-black wintry mornings and the light of a summer dawn. You are privy to the city waking up. It's rather beautiful."
Words: Matilda Kivelä, Photos: Bryan Saragosa