Before we turn the page for the next year it is time to look back to year 2022
New year is right behind the corner, and we want to thank you for this year together. Our mission is always to keep the customer in the heart of our work. We love to hear our client's feedback and are open to development proposals, so please do not hesitate to reach out to us. We conduct a customer satisfaction survey twice a year, and we thank you for the valuable feedback and development proposals we have received through it.
This year, we warmly welcomed more than 100 new professionals to the Greenstep family. Now we have more than 600 Greenstepers in total in the Nordics and Estonia. We have expanded our office network to support you locally by opening new offices in Hämeenlinna, Kuopio, and Lappeenranta in Finland and Moss in Norway. Next, we will open a new office in Pori, Finland. Along with our local offices, our cooperation with MSI Global Network enables us to support you in over 100 countries. MSI is a worldwide network of high-quality firms from the accounting, payroll, tax, and legal sectors.
In addition to the new offices, we will also be able to support you with new legal and tax services. Whether the issue regards structural arrangements, legal documents, or planning ownership structures, our team of experts will help you.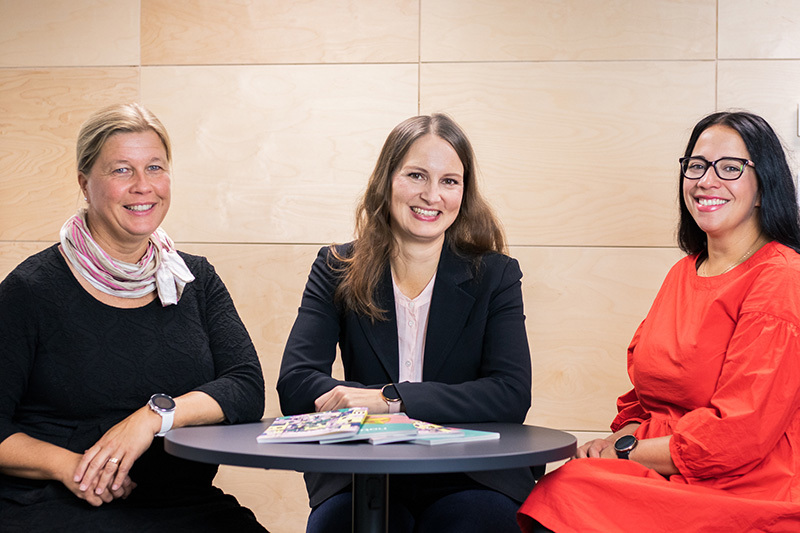 We can support your growth and help you with changing situations, including legal matters, regardless of the industry or services provided. Photo: Christel Finne, Leena Oksanen, and Sofia Sandberg from our legal services team.


Our business is based on shared values
We are a responsible employer and a strategic partner for our clients. At Greenstep, sustainability is an integral part of everyone's work and the whole organization. It is reflected in our everyday activities — in everything we do.
The focal points of our sustainability work have been developed from the impact of our operations and the expectations of our stakeholders. They are:
Economic sustainability and governance
Equal and healthy working community
High-quality competence development
Environmentally sustainable choices
Our Sustainability Report addresses the year 2021 from these focus points. We give special attention to the social responsibility aspect of our actions, as our goal is to be a socially responsible employer and company. Tax footprint, sustainable energy investments, and targets for this year, among other things, are also presented in the report.


Greenstep stands with Ukraine
The brutal Russian invasion of Ukraine has impacted us all. We at Greenstep have wanted to do our part and help Ukraine and the Ukrainian people. Greenstep participated in two relief missions in the early phase of the war, providing much-needed protective equipment, drones, medical supplies, and food to Ukraine. Later in the spring, we donated 200 000 euros to aid Ukraine through the Finnish Red Cross and Unicef.
As the war continued, we donated more medical supplies through Sisu Ukraine ry and supported the winning team of Empowering Future Entrepreneurial Ukraine program with a prize worth 10 000 euros. The program aims to scout potential innovations for the global market and enhance positive faith for the future amongst the youth in Ukraine.
In addition, we have been happy to help a few of the individual Ukrainians who fled the war to Finland by employing them.


Greenstep commits to carbon neutrality from 2022 onwards
We are committed to ensuring the carbon neutrality of our operations as of 2022. This goal will be achieved by avoiding and reducing greenhouse gas emissions in all our actions and compensating for all unavoidable emissions with Compensate Credits.


Happy New Year!
We wish you luck and success for 2023! Please be in touch if we can support your company in any case — we will be happy to help!