Navix grows and expands abroad with the support of Greenstep´s professionals
Focusing services on the same partner has truly proven to be a profitable solution. The extensive partnership with Greenstep has made the international company's everyday life effortless.
Finnish Navix produces high-quality parts for boats and commercial vehicles with solid experience. The internationally operating company exports products to more than ten different countries in Europe, and the business is growing promisingly. For versatile business development, Navix has found support from Greenstep's comprehensive solutions.
"At Navix, we manufacture customized products for the boating industry and special vehicles. We currently employ a total of 180 people in two different countries. The secret to our success is products that are both attractive and easy to use. The product selection includes electrical systems, switch and control panels, cable sets, and several plastic products. We make all products customized, i.e., the products only fit one vehicle", says Peter Engblom, the CEO of Navix.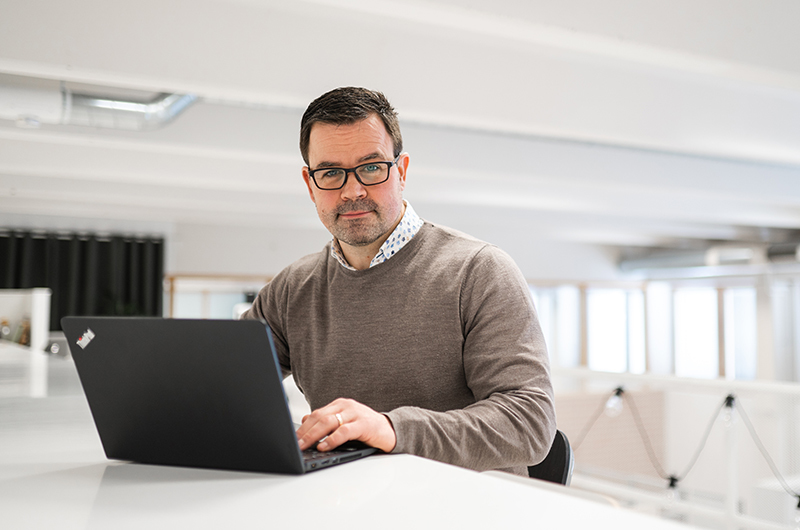 Peter Engblom, the CEO of Navix
Comprehensive solutions meet the needs of an international organization
The cooperation between Greenstep and Navix started with sustainability work. In addition to creating a Code of Conduct, it was introduced to Navix staff through Greenstep Academy's workshops. According to Peter, Greenstep made an impression with its versatile and high-quality services, thanks to which the cooperation was quickly extended to accounting, payroll, and HR services.

"At Navix, we want to create comprehensive services for customers, and Greenstep shares these same values ​​with us. When our cooperation started, it quickly became clear how versatile services Greenstep has to offer. We saw it as a great opportunity to have all core services under one roof. Because of this, we decided to deepen the cooperation in payroll, accounting, and HR services as well", describes Peter.


Outsourced services save time for core competence
By outsourcing professional tasks, Navix has successfully freed up a considerable amount of resources for developing the core business. Perhaps the most significant change has been brought by an external HR manager, who takes care of the smooth operation of daily personnel processes.

"Previously, a lot of time has been spent managing things that are not our core business. By outsourcing responsibilities, we have been able to focus on maintaining and developing our business. In particular, the HR services offered by Greenstep are important in our everyday lives. The employees have been pleased with these improvements", says Peter.


Bezala cleverly modernizes onerous processes regarding expenses and travel invoices
According to Peter, Greenstep's experts have extensive knowledge, thanks to which Navix has succeeded in reforming many practical issues in finance and personnel management. Greenstep's user-friendly Bezala application has proven to be a great help in payroll. According to Peter, it fits the needs of the traveling staff.

"We have a lot of different travel-related expenses when our personnel travels around the world. With Bezala, expense and travel invoices can be entered into the accounting system quickly and effortlessly. It integrated well into the current systems, in addition to which the feedback from the staff has been really positive", Peter describes.


Greenstep serves Navix's business operations in Finland and Estonia
According to Peter, focusing services on the same partner has truly proven to be a profitable solution. The extensive partnership with Greenstep has made the international company's everyday life effortless, as Greenstep currently also serves Navix's production facilities in Estonia.
"Thanks to the close cooperation, Greenstep's experts know us comprehensively, so we don't always have to wipe the slate clean in new projects. The partnership with Greenstep has made our everyday life a lot easier since payroll and HR services are now under the same roof. I can also warmly recommend Greenstep to others, because they genuinely want to develop their customers' businesses. In the future, we intend to deepen our cooperation in terms of operational issues and new development projects", Peter describes.