Vaasan Sähkö developed their learning management with Greenstep Academy

Vaasan Sähkö has been operating in the energy sector for over 130 years, employing around 140 experts in the heart of Vaasa. The company focuses on providing the best customer experience, which requires excellent HR and L&D work. In the spring of 2023, Vaasan Sähkö developed the learning management skills of its supervisors in Greenstep Academy's training.
In recent years, learning management has become an increasingly important and visible topic in companies. When it is in control, the organization's core areas of competencies and development needs are identified effectively. This enables the planning of the company's operations and, for example, training and recruitment needs. Good learning management develops the expertise of both teams and individual employees, which drives the entire organization forward.
Supervisors' learning management skills needed updating
Vaasan Sähkö has also recognized that supporting continuous learning and development is key to success.
– In autumn 2022, we got help from Greenstep in developing our HR strategy. Developing a learning organization culture was a key part of our HR strategy, and we started thinking about what it requires from us, says Sanna Rantala, Vaasan Sähkö's HR Director.
To get on the project, they wanted to update the skills of the supervisors in learning management – what does it mean in practical terms for supervisors today, and how can a learning organization culture be built together?
In the spring of 2023, Greenstep Academy organized a training program on learning management for Vaasan Sähkö's supervisors, led by Heli Häyrynen. The goal was to update the supervisors' knowledge of learning management, identify the key competencies and development needs of different teams, and lay the groundwork for systematic learning development.

Enlightening lectures and joint workshops provided tools for better learning management
The project, which lasted a few months, included lectures and workshops. The program started with a lecture which delved into learning management topics with practical examples and discussion.
– Learning management can sound like a somewhat mystical, perhaps even challenging topic. However, Heli was able to open up the subject with really interesting and practical examples, says Rantala and continues:
– In the lecture, Heli highlighted the current situation – where we are now and what, for example, artificial intelligence might mean for us. She also reminded us of the basics of learning management, such as different learning styles and their consideration in everyday supervisor work.
The workshops focused on working on the key competencies of different business units. Based on discussions, the expertise areas that each team needs in their daily work were identified.
---
– In the workshops, we were able to broadly outline the key competencies, which are valuable guidelines for our future, Rantala rejoices.
---
As a result of the training program, the supervisors' basic knowledge of learning management increased, and the core competency areas and needs of each business unit were identified. The program provided supervisors with plenty of tools for learning management.
Practical work is still ongoing in the business units, but concrete results are expected to be visible in the autumn. Based on the training program, the groundwork can be laid for systematic learning development.
– These project outcomes will be incorporated into our HR system. This will provide systematic monitoring, and the expertise areas will also be included in our development discussion processes, Rantala explains.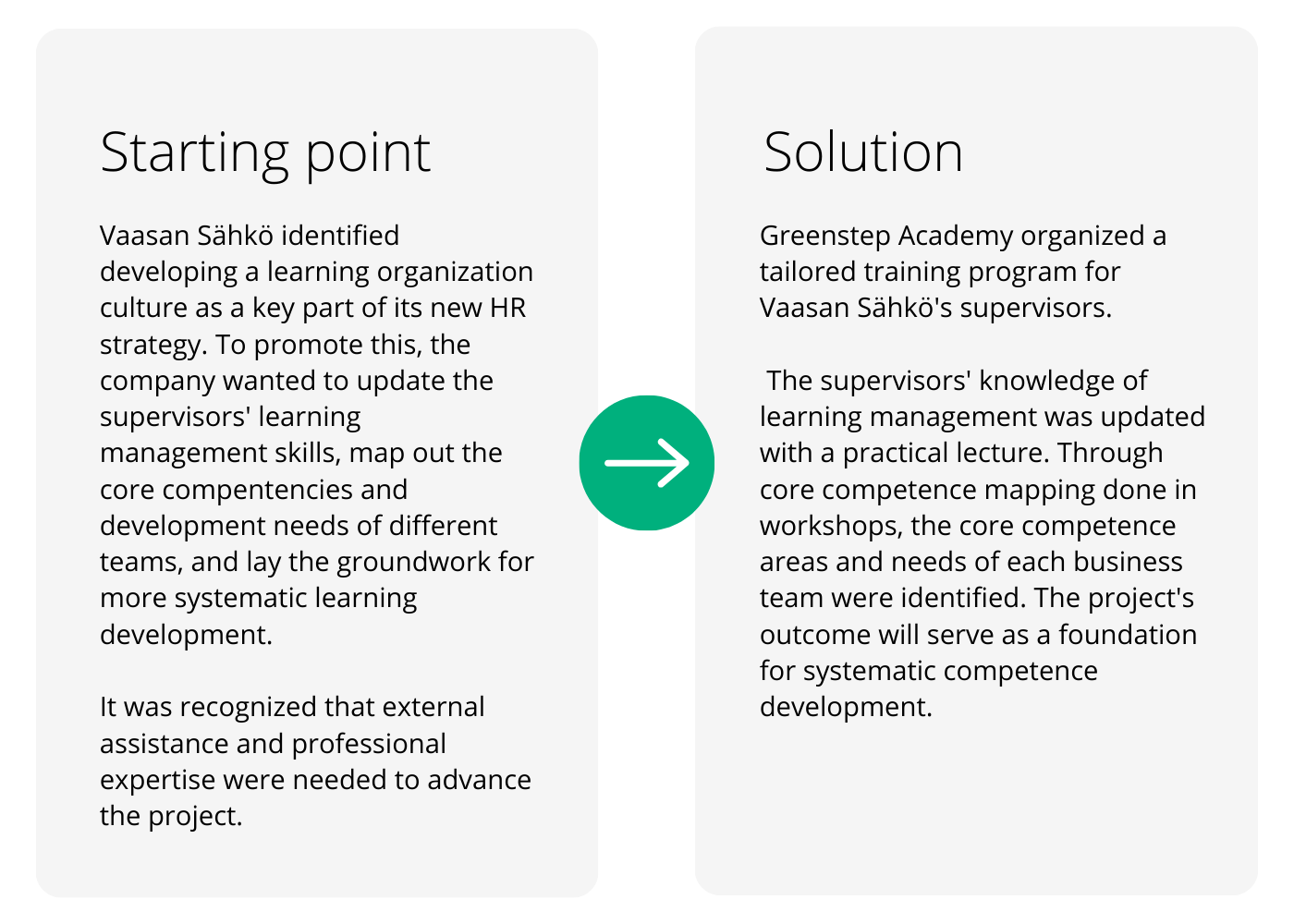 Inspiring conversations and development ideas for the future

The participants have been very satisfied with the training program. Rantala is pleased with how interesting and enlightening the training was.
Heli's ability to challenge supervisors to think about things from different perspectives – and to talk about even more challenging issues – is particularly praised.
– What I especially liked was Heli's ability to challenge us. She nicely challenged our supervisors to think about even the more difficult issues – what exactly is meant here, and is this really the right direction for each issue, Rantala says.
While the training program achieved its goal of developing learning management, new development ideas also emerged along the way. Rantala is very pleased that Vaasan Sähkö's needs were taken into account and listened to during the project, but also that new ideas were brought to the table that they may not have seen themselves.
– The discussions with Heli during the project were really inspiring. She also gave me new ideas from an HR perspective. She was proactive in suggesting areas that could be explored further in the future. It's wonderful to see that these collaborations always produce more than what was ordered, Rantala rejoices.
---
– We received exactly the package we wanted from Greenstep Academy, and a little extra on top of that! We have been very satisfied with the training program and our collaboration.

---