Real-time BI reporting with key figures of HR – explore HR Dashboard
Business intelligence is powering digitalization in HR today. With BI Book, it is efficient and easy to bring HR data on the HR Dashboard. When you don't need to grind with excel or collect data manually, you have more time to analyze and develop your HR results.

With HR reporting, the leadership and operational forecasting become clearer. Because employees are one of the most crucial assets for the business, HR reporting should be as valuable as financial reporting. In addition, to meet statutory requirements, HR data should be in real-time and easy to access.
Often HR data is distributed in multiple excel sheets on the computers of different users. This makes HR data hard to keep up-to-date and challenging to access for everyone who needs it. As versatile as Excel is, it is not the best software for reporting in real-time and visually.
When basic HR data has been automated to visual HR reports, we can generate more informative HR dashboards for your specific needs. For example, we may combine HR data with financial data to generate key metrics for leadership and culture development.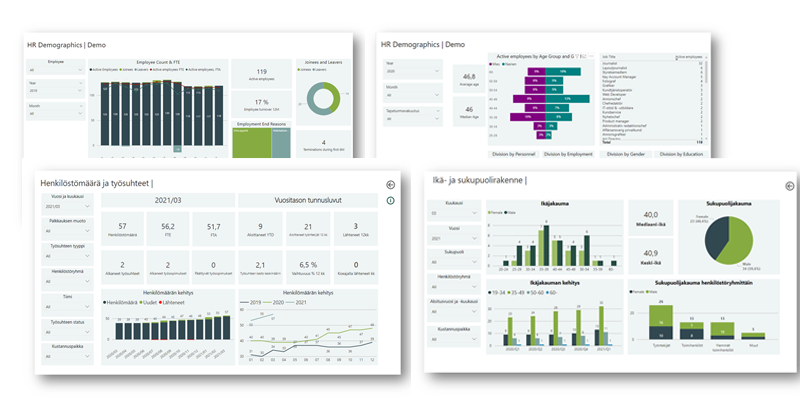 Bring your HR reporting to the 21st century – explore BI Book and HR Dashboards!

Benefits of BI Book and HR Dashboards:
Visual and clear view - use ready-made reports or customize as you like
Five pre-designed HR Dashboard for our Netvisor and Mepco customers
See the overall picture of the staff in a clear way
Restrict visibility of reports with different rights - share viewing and editing rights for different users and groups
Up-to-date HR reports are always available; with automatic data updates or the possibility of self-updating
You save time and have more time to invest in development and leadership instead of collecting data.

BI Book is a reporting system that helps you produce meaningful and visually attractive reports based on your financial data. BI Book is built on Microsoft Power BI -platform, so it will automatically produce BI reports, and you can use it as a presenting tool. With BI Book, we can build a modern reporting system with Power BI tailored to meet your specific needs.