Comprehensive and scalable HR services to support Coptersafety's business

Greenstep's flexible services have helped Coptersafety to focus its human resources on its own core expertise.

Erkka Suvikumpu, the CEO of Coptersafety, describes our co-operation in the video:




The co-operation between Coptersafety and Greenstep has been ongoing right from the start of Coptersafety's business. Coptersafety is a company providing simulator training for helicopter pilots, and they have invested in a wide range of Greenstep's services over the years. "In addition to HR, we have worked with Greenstep in financial services basically since day one. The services have been evolving and moving around, and these functions seem to be the perfect way to continue", says Erkka Suvikumpu, the CEO of Coptersafety.


Supported by comprehensive HR services
Coptersafety faced challenges with finding the right balance between the company's internal and external resources operating in an exotic industry. Greenstep's flexible services have complemented the Coptersafety's growing business in such way that the company has been able to focus its moderate human resources on its own core expertise.
"We still want to focus on the aviation business although our staff has grown. Greenstep and its stakeholders have responded to this need exceptionally well", describes Suvikumpu. He adds: "Greenstep has been able to provide us services for the growing business and that's the number one thing we are looking for from the service provider".
According to Minna Jyrkiäinen, our HR consultant working for Coptersafety, the co-operation includes all things from HR consulting to strategic planning. For example, Greenstep has built an HR solution that supports Coptersafety's business and evolves with the growing company.
Greenstep has a team of eleven human resources professionals with different backgrounds and strengths. Our consultants receive support from the team in handling different client situations. "Together with this team we spar various HR matters, and sometimes the situations can be quite challenging", Minna describes the support she gets from her team.

Coptersafety's CEO Erkka Suvikumpu and the HR consultant for Coptersafety, Minna Jyrkiäinen at Coptersafety's premises in Vantaa.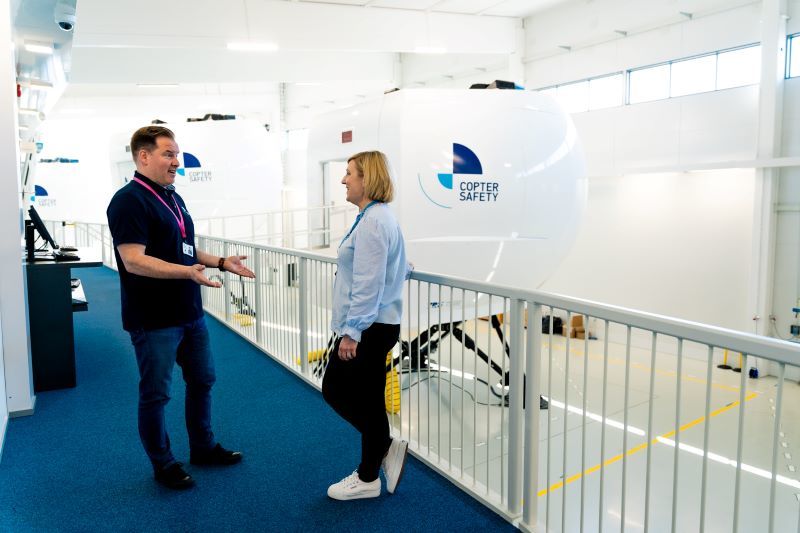 Flexibility as a key for a long-term partnership

Erkka Suvikumpu shares that the co-operation with Greenstep has proven to be flexible and easy. Due to the outsourced services, Coptersafety can trust that human resources and financial management are under control even during holidays.
"Working with Greenstep has been really easy, which I appreciate myself. They do not have complicated processes, but the co-operation has just the right amount of structure instead. In the ups and downs, like Covid for example, we can also scale down the things that we want from Greenstep, so flexibility is the key word for this partnership. The number one thing we have achieved with this co-operation has been the flexibility", he describes.
In addition, the longevity of the co-operation has proven to be a valuable benefit to Coptersafety. According to Suvikumpu, the contact persons from Greenstep have become familiar over the years, which makes the co-operation and investing in services straightforward.

"The best part for working with and along Greenstep has been the individuals themselves. We've been granted a really good amount of people and there is a lot of people who've been with us since the day one. We know them really well and they are part of the Coptersafety family themselves", shares Suvikumpu.