People-centricity as a business driver - this is what HR analytics is really about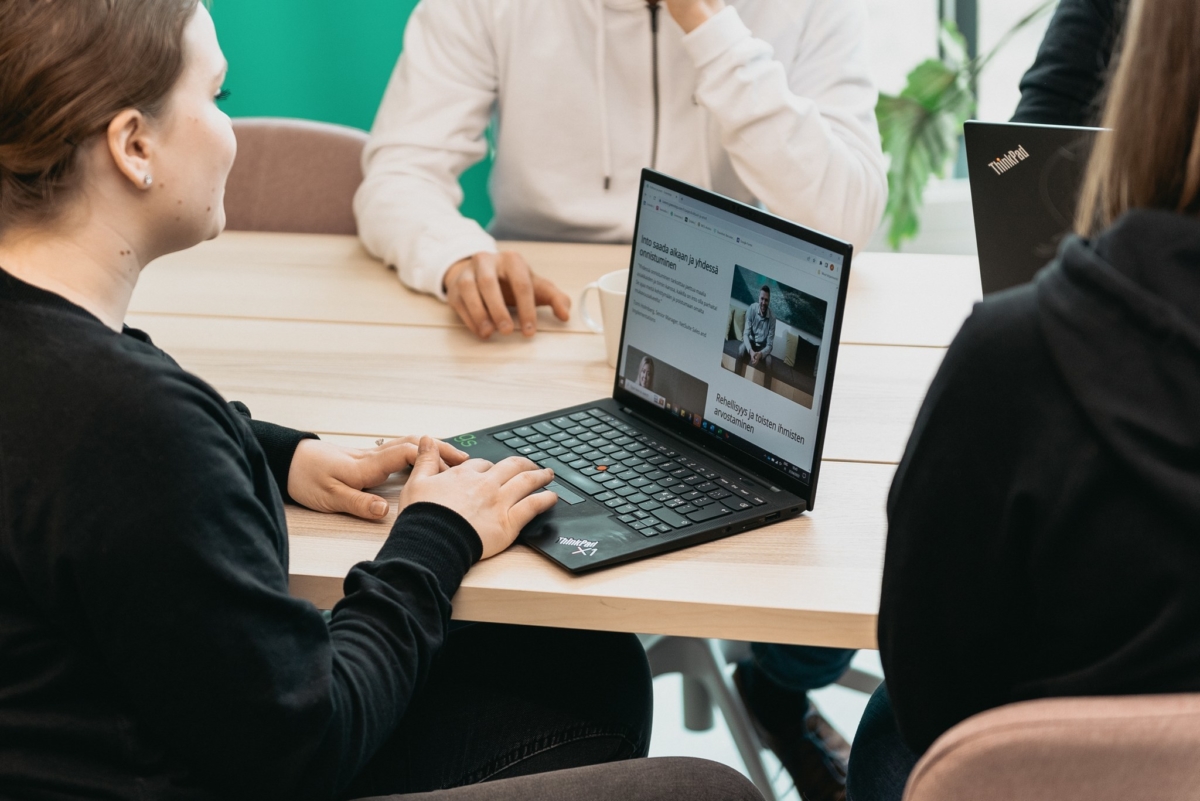 Everyone has heard the old wisdom about how staff are an organization's most important asset. To some it may sound trite, but that idea stands the test of time and has been branded as wisdom because of its truth base.
Because people are so important to an organization, they need to be looked after - otherwise the risk is that the organization starts to lose its top talent elsewhere.
Some might ask what difference does it make if staff attrition is, say, 2% - does it really have an impact on the business? What if staff retention drops by 5% - where does it show up? Does it affect customer satisfaction, or does it increase work efficiency, for example?
You can start to guess the impact of HR-related actions and decisions, but a better result comes from harnessing the vast amount of data in different forms in every organization as a tool for knowledge management.
People Analytics in a nutshell
In practice, HR analytics is, as the name implies, the analysis of data relating to humans. To facilitate data analysis, organizations can use a variety of analytical tools to produce reports and charts based on the data, queries and calculation rules entered.
To make HR analytics organization-wide and cross-disciplinary, the data that is being analyzed needs to be collected from a variety of systems and files. For example, basic analytics can be done with just payroll data, but when that data is enriched with other information, analytics reveals its true value.
For example, people analytics gives HR professionals the tools to identify workforce trends and make informed decisions on issues such as recruitment, retention, and other business objectives. However, HR analytics is not just a tool for HR - it can also be used by business, finance, and operations management to make more informed decisions and forecasts that have a direct impact on the bottom line. This is something that is of great interest to corporate boards, venture capitalists and other key stakeholders as well.
This is all well and good on paper, but what real practical use cases can HR analytics be used to solve?
People Analytics in recruitment
Every organization wants to recruit the best talent on the market and also hold on to those top talents when they get them.
However, recruitment can often prove challenging for several reasons. The pool of suitable candidates is limited, and recruitment processes can easily become costly and time-consuming. Workforce analytics can help companies optimize their recruitment processes and find the recruitment methods and channels that work best for their needs. In this way, recruitment resources are used in the best possible way without wasting time and money.
So how does HR analytics help in the recruitment process?
Today, companies are competing for the best workforce with virtually every other company - location is no longer such an important factor in the age of hybrid work. The number of recruitment channels has also increased, and different types of talent are no longer necessarily hanging out on the same channel.
By making use of HR analytics, a company can get a comprehensive overview of the recruitment channels it uses and the results it achieves through them. A clear dashboard view can show, for example, the number of applications received per recruitment channel and the breakdown of applications by function or department. The applicant data can be enriched with other information, such as marketing data, to calculate, for example, the number of applicants generated by different channels in relation to the budget spent.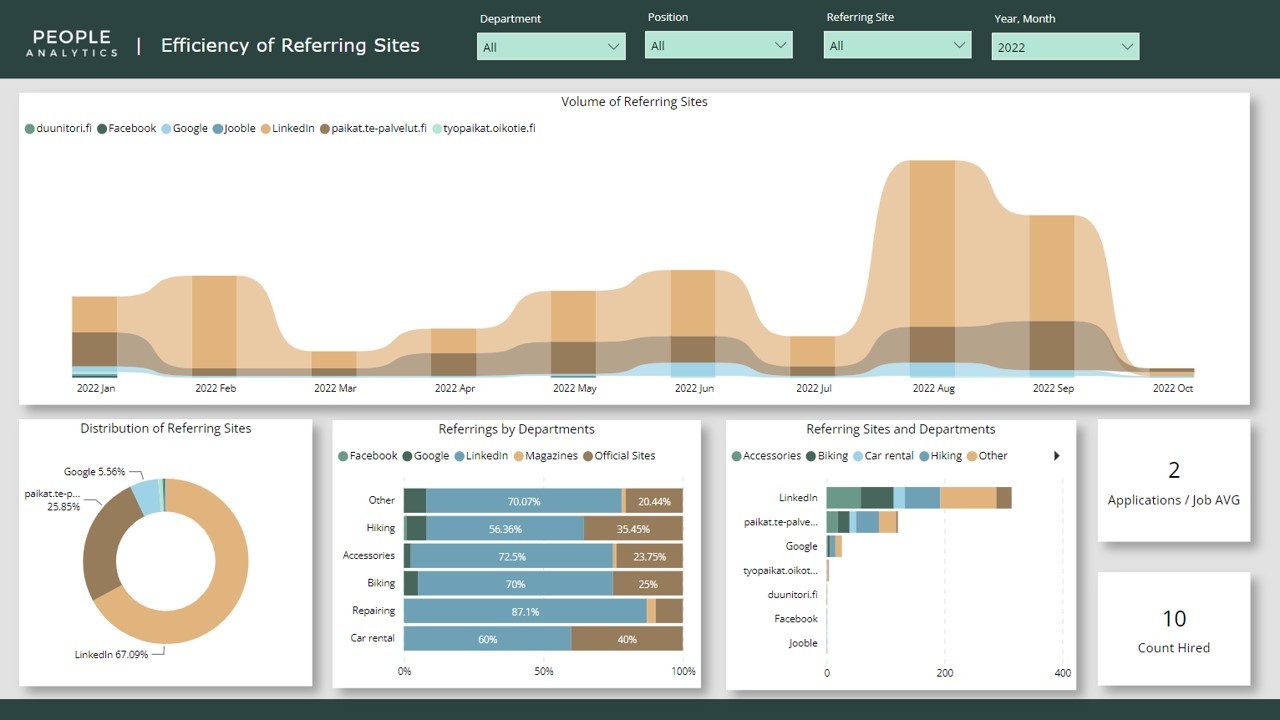 For example, channel optimization can be based on information about which channels have generated the most candidates that the company has chosen to hire - it is not always the channel that generates the most candidates. In addition, different channels and recruitment methods may work better in one geographical area compared to another.
By examining its own recruitment processes and the data they generate, an organization can identify bottlenecks in the process and thus significantly reduce the time spent on recruitment. Data can be used to drill down into the different stages of the process, such as the length of the process, the ratio between interviews and job offers, or even where candidates withdraw from the process. A holistic view of the process helps to optimize it to make it much more efficient.
People analytics can help an organization to better predict its recruitment needs, for example for seasonal workers. The continuous accumulation of historical data ensures better recruitment decisions in the future. Workforce analytics also enables better A/B testing in recruitment processes. This allows companies to test which recruitment texts and channels work best together for the different positions they are looking for, and thus target their efforts on the best performing combinations in the future.
Using People Analytics in reducing staff turnover
When an employee leaves a company for new challenges, the consequences of change can be costly, both financially and culturally. Top talent often take experience, skills, and efficiency away with them. Naturally, companies are keen to retain good employees, but there are times when they are unsuccessful.
Sometimes the departure of a person can take a company by surprise. But it doesn't have to be that way: by analyzing data and weak signals, companies can retain their top talent and reduce staff turnover.
What can HR analytics do to reduce staff turnover?
A company can identify employees who are considering leaving by analyzing data such as job satisfaction, performance and hours worked. This can help improve the situation of dissatisfied employees before it is too late.
In itself, numerical data does not always add much value to an organization - sometimes focusing on numbers alone can actually have the opposite effect and cause harm. For example, a closer look at turnover data may reveal that of the 5% of annual staff turnover, 50% is concentrated on a specific team. This knowledge opens access to team structure, job roles or management practices, which, if improved, can see a big change in turnover.
If turnover is high among people who have been with the team longer, analytics can be used to get to the root causes of turnover in this segment; what their career path has been like before leaving and whether factors for leaving can be found, for example through lack of development / advancement opportunities or similar reasons.
For new employees, the data can also help the organization to improve its own induction practices, for example by exploring the reasons for terminating the employment of employees who have left on their probation period. This will also allow the recruitment process and interview discussions and promises made to be refined.
In turnover analysis, as in other forms of HR analytics, it is important to consider the characteristics of the organization and the business sector it's operating in. This provides a means to get to grips with what factors may influence turnover and to test these hypotheses based on a set of data collected from several sources.
Increasing staff productivity through HR analytics
In most cases, employee productivity has a direct impact on business profitability. However, maintaining high productivity can be a challenge, as underneath the surface of good intentions often lurk inefficient processes, inadequate resources, or disengaged employees.
Workforce analytics can provide answers to these challenges. By studying employee behavior (e.g. through various time entry and service management systems) and performance (e.g. through weekly pulse surveys), a company can use data-driven insights to identify bottlenecks and other areas for improvement.
How can HR analytics help companies improve staff productivity?
Particularly in specialist work, analyzing working time data shows where working time is actually spent. Various types of work and hourly records show how much work is being done, for example, that is invoiced, compared to internal work or time spent on brainstorming and planning. Drilling down into this information also helps companies to see the situation of different teams or departments separately. Seeing the differences in working practices and processes allows best practices from different teams to be shared outside the team.
If an employee is not committed to the company and is considering leaving, for example, his or her workload can easily diminish. The company can identify signs of disengagement based on a range of data to intervene and address the situation.
A person's productivity curve usually starts to rise once they have become familiar with the company's policies, tools, culture, and their own job responsibilities, and have clear objectives for their work. If a company finds it difficult for new recruits to reach the targets and stick to productive work, it can use HR analytics to identify potential areas for improvement, for example in induction.
The company can also monitor staff performance based on data from various sources and provide them with the necessary feedback and additional training to improve their productivity and job satisfaction. Tailored training programmes can be developed for employees, focusing on the areas that pose the greatest challenges.
Productivity is an issue whose importance can vary greatly from one organization to another. It is therefore impossible to create a one-size-fits-all solution that works for everyone. Simply reporting on working hours can give some idea of the time spent, but in this case the actual analytical contribution is small, if not non-existent.
Workforce analytics in reducing sickness absences
Sickness absence can have a major impact on a company's operations, both in the short and long term. Workforce analytics can help companies to anticipate and reduce longer-term sickness absence that is due to, for example, work-related fatigue.
By analyzing historical data on sickness absence and identifying at-risk groups, companies can take proactive and targeted measures to reduce absenteeism and minimize health and safety risks.
How can workforce analytics help reduce sickness absence?
Sickness absence can have a significant impact on a company's productivity and profitability. When employees are absent, agreed deadlines for work can be extended, projects can be interrupted, and the workload of other employees can become excessive.
A company can analyze historical data on sickness absence of its employees and predict trends and tendencies in absenteeism. These forecasts can be used to plan for sickness absence, for example when scheduling long-term projects.
Employee sickness absence can also affect employee well-being, as it can be a sign of underlying health problems or work-related stress. Workforce analytics can help companies identify the underlying causes of employee sickness absence, such as work-related stress, and find ways to intervene in time. If an employee's performance level starts to decline or anomalies start to appear in their timesheets, these 'silent signals' can be identified and addressed.
Workforce analytics is constantly evolving, and companies can now also harness the power of AI to gain deeper insights into employee behavior and well-being. AI can help companies identify trends and predictions from large data sets, and as AI continues to evolve, its potential to positively impact employee wellbeing will only increase.
Workforce analytics for forecasting and cost optimization
Accurately forecasting labor needs and managing and optimizing the associated costs can be a major thorn in the side, especially for organizations operating in certain sectors. Inaccurate forecasting can lead either to too many employees, leading to an additional increase in labor costs, or to a shortage of employees, leading to a decrease in productivity and ultimately in the company's performance. Labor costs represent a significant part of a company's costs, so optimizing them is of great importance for the company's profitability.
How can you use HR Analytics in forecasting and cost optimization?
A key element in forecasting staffing needs is the analysis of various historical data and future trends. Past recruitment, turnover and even sales data and forecasts can be used to create a picture of future recruitment needs.
Retaining the talent already in-house is cheaper for the company than recruiting new talent. It is therefore worth holding on to existing employees. Workforce analytics allows a company to anticipate, predict and address potential factors that may affect employee departure. By tracking and aggregating data from employee satisfaction surveys, salary trends, career paths and performance, and comparing it with historical data, a company can identify its employees at high risk of leaving and influence their retention in different ways.
The company can make predictions about future payments based on payroll history. It can predict how much money will leave the till for different payroll-related items and on which day. By enriching this data, a company can develop forecasts so that by recruiting two people for position X and three people for position Y, it can accurately calculate the costs associated with those recruitments.
Workforce analytics provides companies with valuable information about their workforce needs, allowing them to optimize labor costs, reduce turnover and improve productivity.
The value of people analytics is measured in the success of the whole organization
HR analytics is not just a tool for HR professionals. Instead, like financial figures, it should be on the agenda of the whole organization. Every employee has an impact overall through their actions. In practice, the organization buys people's time, which should then be allocated to the right things in the best possible way.
This is what HR analytics is all about.
It is important to remember that, unlike financial analytics and its universal laws, the use of HR analytics can vary greatly from one organization to another. To use analytics to find the right answers, the right questions that are relevant to the business must first be identified. Then you can start to think about what all the data can solve and what data is needed to find new insights.
That is when the real analytics work begins.



---
How could your company use HR analytics? If you need a sparring partner or a concrete implementation of analytics services, you can book a meeting with us - we'll help you.